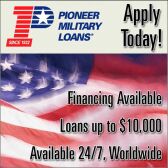 | | | |
| --- | --- | --- |
| | | Get Your Free Lifetime E-mail Address at Army.com |
Show your support for the Army of your choice, with an e-mail address @army.com. Stay in touch with old buddies, and remember the times you shared together.
An Army.com e-mail address allows you to pick a distinctive, easy-to-remember e-mail address like johnsmith@army.com or gi.joe@army.com. You will never have to change your e-mail address ever again! It is compatible with every mail program that supports Internet e-mail standards. And that means everyone!
Your Army.com e-mail address is good no matter which Internet provider you use. If you are changing to a new provider in your town, or to a new location, just go to our easy-to-use form and let us know your new e-mail address. You will never miss a message.
The e-mail service is provided by FanMail.com. Please review their Service Agreement, and .....
Sign up Today!


Go BACK