Men Age 18 Through 25 Must Register with the Selective Service System


Click here for more information on enlisting



KNOW THE FACTS

What is Selective Service Registration?
Registration is the process by which the US government collects names and addresses of men age 18 through 25 to use in case a national emergency requires rapid expansion of the Armed Forces.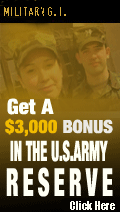 Will I Be Drafted?
Registering with Selective Service does not mean you are joining the military. And registering with Selective Service does not mean you are signing up for the all voluntary Armed Services.
The fact that a man is required to register does not mean that he will be drafted. No one has been drafted since 1973. No one can be drafted into the military unless ordered by Congress and the President. A draft would most likely occur only in the event of war or national emergency.
What Happens If I Donít Register?
Young men convicted of failure to register may be fined up to $250,000, imprisoned for up to five years, or both. In addition to being subject to prosecution, failure to register may cause you to permanently forfeit eligibility for certain benefits. Not registering is a felony.
What Are The Benefits?
Registering with Selective Service can open doors for you. For example, Selective Service registration is often required for Federal Job Training that can train you for jobs as an auto mechanic, electrician, carpenter, and many other types of jobs. A man must be registered before he can get Federal (and some state) loans, grants, and scholarships. Also, Selective Service registration is required for eligibility for US citizenship and government jobs, such as a postal worker, computer technician, policeman, budget specialist, and others.
HOW TO REGISTER
Click here to fill out the registration form online.
WHO MUST REGISTER
With few exceptions, all male US citizens and male immigrant aliens residing in the US and its territories must register within 30 days of their 18th birthday. Refer to the chart below for specifics:
Category

Yes

No

All male US Citizens born after December 31, 1959, who are 18 but not yet 26 years old, except as noted below;

•

Military-Related

Members of the Armed Forces on active duty (active duty for training does not constitute "active duty" for registration purposes)

• *

Cadets and Midshipmen at Service Academies or Coast Guard Academy

• *

Cadets at the Merchant Marine Academy

•

Students in Officer Procurement Programs at the Citadel, North Georgia College, Norwich University, and Virginia Military Institute
National Guardsmen and Reservists not on active duty
Delayed Entry Program enlistees
ROTC students
Separatees from Active Military Service, separated for any reason before age 26
Men rejected for enlistment for any reason before age 26
Civil Air Patrol members
Lawful non-immigrant on visas (e.g., diplomatic and consular personnel and families, foreign students, tourists with unexpired Forms I-94, I-95A, or Border Crossing Documents I-185, I-186, or I-444)
Permanent resident aliens
Special (seasonal) agricultural workers (I-688)
Special agricultural workers (I-688A)
Refugee, parolee, and asylee aliens
Undocumented (illegal) aliens
Dual national U.S. citizens
Incarcerated, or hospitalized or institutionalized for medical reasons

Handicapped physically or mentally

Able to function in public with or without assistance
Continually confined to a residence, hospital, or institution

* Must register within 30 days of release unless already age 26, or already registered when released, or unless exempt during entire period age 18 through 25.
** Residents of Puerto Rico, Guam, Virgin Islands, and Northern Mariana Islands when they are habitual residents in the United States. Habitual residence is presumed whenever a national or a citizen of the Republic of the Marshall Islands or the Federated States of Micronesia resides in the United States for more than one year in any status, except as a student of employee of the government of his homeland.

AFTER YOU REGISTER
Watch Your Mail!
Within 90 days after registering, you should receive in the mail a Registration Acknowledgment from Selective Service which will provide you with a copy of your registration record. Safeguard that document since it will serve as official proof of your registration. If you do not receive a Registration Acknowledgment within 90 days after registering, it is very important that you write to the address below, or call (847) 688-6888 to verify that your registration has been received.
Selective Service System
Registration Information Office
P.O. Box 94638
Palatine, IL 60094-4638
Update Your Record
Once you register, the law also requires you to keep Selective Service informed of your address changes so you can be reached without delay. You can inform Selective Service of an address change by writing to the address above, or you may go to any post office for a Change-Of-Information Form (SSS Form 2), fill it out and mail to Selective Service.
Go BACK