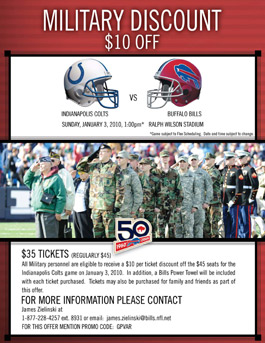 Military Discount


$10 OFF
Indianapolis Colts VS Buffalo Bills
Sunday, January 3, 2010, 1:00pm
Ralph Wilson Stadium




*Game Subject to Flex Scheduling. Date and time subject to change.



$35 TICKETS (Regularly $45)

All Military personnel are eligible to receive a $10 per ticket discount off the $45 seats for the Indianapolis Colts game on January 3,2010. In addition, a Bills Power Towel will be included with each ticket purchased. Tickets may also be purchased for family and friends as part of this offer.
FOR MORE INFOMATION PLEASE CONTACT
James Zielinski at 1-877-228-4257 ext. 8931 or email: james.zielinski@bills.nfl.net

FOR THIS OFFER MENTION PROMO CODE: GPVAR