Hale Koa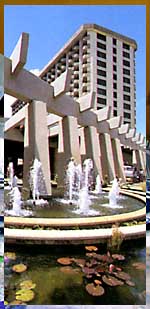 Reservations: Hale Koa Hotel, or House of the Warrior, is an 817 room, world-class resort hotel. 2055 Kalia Rd., Honolulu, HI 96815-1998 (808)955-9424, 1-800-367-6027 FAX 1-800-HALE-FAX (425-3329).
The Hale Koa celebrated its Grand Opening on October 25, 1975 with an ancient Hawaiian blessing ceremony and royal procession. From this beginning steeped in tradition, the Hale Koa stands as an ambassador of aloha to over one million visitors annually. Since 1975, Hale Koa's mission has remained unchanged: "To operate a first class hotel and recreation facility at affordable prices for military members and their families."
Ft. DeRussy has come a long way from 1906, when it was sold as a 72-acre parcel of "undesirable" land.
Today, Ft. DeRussy Armed Forces Recreation Center is the home of the Hale Koa, or House of the Warrior, an 817 room, world-class resort hotel and favorite R & R destination for our country's military personnel.
In 1991, major expansion began at the Hale Koa, including the development of 66 acres of Ft. DeRussy, a new swimming pool complex, a beverage bar and luau garden. Kalia Road, which fronts the hotel was realigned and improved. By 1995, the new Maile Tower was in place beside the existing Ilima Tower and room count grew to 817. Also open at that time was 1,287 stall parking garage, fitness center, adults-only pool, and a new restaurant, Bibas.
The Hale Koa takes great pride in operating self-sufficiently from day one, with not one taxpayer dollar supporting upkeep or operation. The Hale Koa's expansion is the largest non-appropriated fund project to date.
Mahalo for your interest in the Hale Koa. We send you our warmest aloha and wish you wonderful experiences during your stay in the islands.