Deployment disrupts children's lives, too
By Megan Smith
April 25, 2006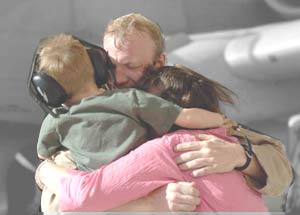 FORT CAMPBELL, Ky. (Army News Service, April 25, 2006) – When deploying Soldiers leave behind loved ones, the disruption to family life can be especially hard on children.
That's why Dr. Thomas Hardaway, a child psychiatrist and chief of behavioral medicine at Brooke Army Medical Center, spoke with first- and second-graders at Fort Campbell, Ky., last fall when the 101st Airborne Division went to Iraq. He was coaching school administrators, counselors, nurses and parents to talk with children about deployment.
"Deployment has potential to be destructive to a child's development," Hardaway said. "The message I'm trying to give is that (deployment) is part of Army life, and if children receive the right kind of support and education, it can actually become something that is developmentally positive."
"This is not group therapy," he said. "We deal with prevention as opposed to turning them into patients; we call that teaching."
Hardaway's deployment tips for parents:
Talk as a family before deployment.
"The family meeting is a good time to design ways to stay in touch after deployment. Include letters, e-mail, pictures and video. You might prepare addressed and stamped envelopes with children's artwork, photos of the family, and photocopies of your children's handprints, or record them reading or singing. This is also a good time to address painful issues of the impending deployment."
Make plans for the family to continue to progress together, and include the deployed parent in ongoing projects.
"Help children design ways to communicate with the deployed parent. Relate progress with pictures and report cards so the deployed parent can provide encouragement. Do not discuss with the deployed parent problems they cannot do anything about."
Continue family traditions and develop new ones.
"Don't stop your Friday-night pizza night, or other special family times because one parent is gone. If the family has not had previous regular family traditions, now is a good time to start. Encourage children to talk about these events and activities to the deployed parent in their communication."
To children no news is worse than bad news.
The remaining parent should be open about sharing concerns and news about what's going on with the deployed parent. Parents should not use their children as surrogate adults and load all of their concerns on the child, but should use judgment in sharing enough to ease the child's worries. Listen to a child's worries about the deployed parent and answer questions as truthfully as possible.
Maintain firm and routine discipline in the home.
"Discuss with your children your intent to have very firm routines related to bedtimes, morning routines, room clean-up, chore accountability and homework. Then follow through."
Initiate and maintain a close relationship with the school and teachers.
Ask school or other caregivers to watch for signs of stress in your child that may include behavioral problems, mood changes, tearfulness or irritability. Younger children might require repeated reassurance that they will be taken care of.
As the remaining parent, make sure you take care of yourself.
Take care of your physical self, talk to other adults about your emotions and squeeze in time for something you enjoy. You will be better able to help your children if you are coping well.