Self Employment, a Wise Career Choice for Military Spouses
"A real portable career option for military spouses"
By: Victoria M. Parham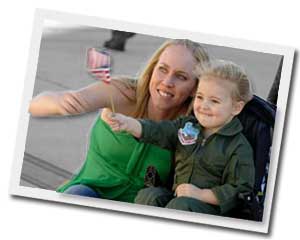 Todayís home office technologies offer a wealth of opportunity for military spouses who wish to launch online Internet-based businesses that can be operated from virtually anywhere. Examples of growing online business trends include:

- Technical or business writing
- Blog writers
- Editor
- Proofreader
- Web Developer
- Administrative support
- Online tutoring
- Freelance Translator
- Freelance Interpreter
- Graphic Illustrator
- Freelance Writer
- Website Hosting Provider
- Technical Support Agent
- Coaching
- Virtual Assistant

Deciding which online business is right for you may seem a little challenging but donít fret, here is a wonderful exercise to help get you started, itís called the Self-awareness and Skills evaluation.

Answer the following questions, be open and honest with yourself:

1. Are you a self-starter?
2. Do you enjoy working independently or as part of a team?
3. Are you trust-worthy and honest?
4. Are you comfortable communicating by email and telephone?
5. Have you always dreamed of starting your own business?
6. What are you passionate about?
7. Do you enjoy serving others?
8. What software proficiencies do you possess?
9. Can you set goals and follow them through to completion?
10. Are you comfortable with rejection?

If you answered yes to the majority of the questions, chances are youíve got the skills, attitude, and motivation of a successful online business owner.

Starting any type of business requires a great deal of planning, research, patience, and preparation. Working for yourself means making decisions on everything.

Examples of decisions youíll be responsible for:
- Equipment purchases and hardware to run your virtual business efficiently
- Software purchases required to serve clients and run your business efficiently
- Business structure setup - (sole-proprietor, corporation or LLC)
- Hours of operation establishing the hours which youíll work
- Loans ó Preparing loan packets (if youíll require startup capital)

Do you plan to operate your online business from military base housing? If so, youíll need to contact your base housing office for authorization to operate a business. Note: regulations on operating a business from military base housing varies base to base, be sure to verify with your local housing office first before you open your business.

Working for yourself doesnít mean youíre alone, there are organizations that can provide assistance and support, especially in the startup phase and during expansion:

Small Business Administration - www.sba.gov
Service Corps of Retired Executives www.score.org
Small Business Development Center www.sba.gov/sbdc/
SBA Womenís Business Ownership www.sba.gov/womeninbusiness

--------------------------------------------------------------------------------

About the Author
Victoria M. Parham is a retired military spouse, Army veteran, president and chief technology officer for VSSCyberOffice.com, a wholly virtual business startup consultancy and entrepreneurial training firm specializing in portable careers training for trailing spouses.

To enroll into our no cost Military Spouse Virtual Business Owners Training Program, visit us online at: www.vsscyberoffice.com/vbo.