Microgrants Help Iraqi Businesses
Oct. 13, 2009
By Army Spc. Maurice A. Galloway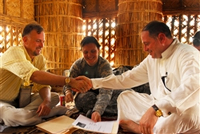 E. Walter Koenig, left, economic team leader for the provincial reconstruction team in Iraq's Basra province, shakes hands with Novri Mohsen Aeamish, a member of the team's mentorship program and recent recipient of one of 30 microgrants. U.S. Army photo by Spc. Maurice A. Galloway
CONTINGENCY OPERATING BASE BASRA, Iraq (American Forces Press Service) – Starting a business can be rewarding and fulfilling. But succeeding in business in a volatile economy is something some would say requires a miracle.
The 17th Fires Brigade and the provincial reconstruction team in Iraq's Basra province have provided that miracle to a few entrepreneurs in the form of small-business developmental microgrants.
After completing an intensive mentorship program with the provincial reconstruction team designed to build strong business-management skills, 30 entrepreneurs received microgrants totaling $97,500 for the startup of new businesses or improvement of existing establishments.
"I am so grateful for not only the money, but for the opportunity to improve my business with the knowledge I've gained from this program," said Novri Mohsen Aeamish, a microgrant recipient. "I will use this grant money to buy tools, paint supplies and a generator for my auto repair shop."
The grants were dispersed based on the evaluation of the business's capital requirement, and ranged up to $5,000.
"This program's initiative is to cultivate an immediate impact for rapid business development," said E. Walter Koenig, economic team leader for the provincial reconstruction team. "It's going to take business developments like these, as well as the eventual development of a democratic system of open trade, to push Iraq on to the stage of global commerce."
The 17th Fires Brigade has been evaluating areas in the province that could benefit from assistance provided by the Commander's Emergency Response Program. A financial resource for deployed U.S. military commanders, the program generates short-duration projects designed to alleviate urgent humanitarian need.
"The effect is to give them the cash to make immediate adjustments to their businesses that will produce the type of results that will benefit a large scale of people," said Army Sgt. 1st Class Serena Puckridge, the brigade's CERP funding manager and a native of San Antonio.
"We're looking at businesses that we can help to improve the quality of life here in Basra," she said. "Whether it's providing market improvements, bringing more livestock into the country or providing construction workers the tools they need to secure contracts, we're giving them a chance to enhance their community."
The grant recipients underwent a vetting process to determine the sustainability of their business ventures before being accepted into the mentorship program. By teaching the future business owners to develop business plans, conduct cost analysis and set business goals, provincial reconstruction team members said, they hope to solidify foundations for long-lasting success.
"We conducted several evaluations to determine the credibility of each and every business proposal," Koenig said. "We're investing a substantial amount of interest in the development of these entrepreneurs that doesn't just end with them receiving the funding to open these businesses. We're prepared to continue the necessary training and mentorship to make sure that these businesses succeed."
The provincial reconstruction team is in the final stage of vetting several more applications by Basra business owners for financial assistance and mentorship slated to begin in the next 30 days, Koenig said.
"We're proud of what we've accomplished with this program so far," he said. "We hope to have more success in the future. The need is there, but more importantly, the desire and enthusiasm is there within the people of Basra who want to be the leaders of tomorrow in the community and throughout the business world.
"All we are doing is offering a hand up," he continued. "How far up depends on the men and women in this great city to decide for themselves."
(Army Spc. Maurice A. Galloway serves with the 17th Fires Brigade.)