MREs No Longer Contain 'Mystery Meat' of Past
Oct 9, 2009
By Erika Wonn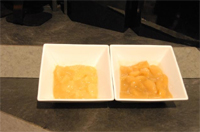 Spiced apples are the first to be high-pressure packaged in MREs. The apples on the left are the high-pressure packaged, and on the right are the apples in MREs currently. This pressurization technology has just been approved by the FDA, and will be used in future MREs. Photo Credit: Eriika Wonn.
WASHINGTON (Army News Service) - DoD's Combat Feeding Directorate set up an elaborate display with interactive activities on the floor of the AUSA Annual Meeting and Symposium, including a place for Soldiers to taste-test new ration items.
Some of the items available were the shelf stable on-the-go sandwich, new Meals Ready to Eat entrees and high-pressure spiced apples.
"We put a lot of science in that bag, probably more science than the average consumer realizes," said Kathy-Lynn Evangelos, team leader and executive assistant for the DoD Combat Feeding Directorate.
Food technologists and behavioral scientists survey anywhere from 200 to 400 Soldiers every year. Using the current year's MREs as the control, scientists field-test 32 to 33 new items per taste trial.
"We use a pedantic scale with nine points," Evangelos said. "If it doesn't rate a six or higher with Soldiers, it doesn't get packaged."
"We run our continuous product-improvement program to take care of today's war fighters," said Gerald Darsch, director for DoD's Combat Feeding Directorate. "We're also investing in high-risk, high-payoff science and technology to provide more capabilities for food development."
Two things new to the DoD Combat Feeding Directorate are the First Strike Ration and the Unitized Group Ration Express.
The First Strike Ration is particularly effective for warfighters on foot patrol outside of the wire who usually carry two to three MREs with them per day, Darsch said.
"We have found that they are stripping the MREs and throwing out up to 50 percent," Darsch said. "Not that they don't like the product, but it takes up too much room in the rucksack."
When Soldiers do this, control of nutrition is lost, and Soldiers are not likely getting the nutrients they need per day, he said.
"And throwing a lot of money away," said Darsch. "But in a war situation a Soldier is going to do what they have to do."
The First Strike Ration reduces weight and bulk of the MRE by 50 percent, and reduction in cost to the taxpayer is roughly 36 percent. The first Strike Ration contains items easily eaten on the move including the newly developed Shelf Stable on-the-go sandwich which is very similar to a hot pocket sandwich. They recently created a French toast pocket with maple syrup in the middle.
"There are currently three menus available in the First Strike Ration," said Darsch. "We are testing menus at Fort Benning, and soon it will increase to nine."
The Unitized Group Ration Express is made for small units outside of the forward operating base. These units feed about 18 Soldiers, and require no kitchen, cook, fuel or equipment.
Everything needed from serving spoons to trash bags is right in the unit. To cook, Soldiers just pull a tab and it activates a heater under the tray. The whole meal takes less than 40 minutes to cook. There is even a turkey dinner available for troops in the most remote locations for the holiday season.
"The best thing about it is: it can be air-delivered," said Darsch. "You don't have to worry about putting Soldiers in harm's way to deliver food."
In the future, the Combat Feeding Directorate hopes to advance its newest technology approved by the FDA which is high-pressured packaging of fruits and vegetables. At their booth, the group gave samples of their spiced apples using the new processing method. Soldiers were impressed by the results.
"It's like night and day compared to the MREs of years past," said Lt. Col. Anthony Brown, program manager, PEO Missile and Space Command.
Another technology that Combat Feeding is focused on for the future is trying to find ways to reduce the amount of packaging generated as waste on the battlefield.
"We have shipped 410 million MREs in OIF/OEF, and if we could reduce the weight of that packaging by 20 percent, that would be a tremendous reduction of volume," said Darsch.
He said that each MRE weighs a pound and a half and the packaging occupies 5.6 ounces of that weight. If the packaging was reduced by 20 percent, based on the 410 million MREs, it would be equivalent to 169 M1-A2 battle tanks. These numbers would dramatically reduce the Army's environmental footprint.
Combat feeding has come a long way from the days of mystery meat and "food-like" products, but its executives still see improvement in the future.
"It's not like mom's home cooking yet," said Evangelos. "But we can still strive for that in the future."