Soldier Draws From Seven Deployments
Oct. 7, 2009
By Army Sgt. Brandon T. Metroka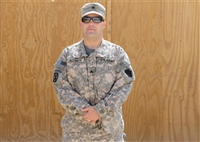 Army Sgt. William Altman, operations noncommissioned officer for the 28th Combat Aviation Brigade, stands outside the brigade's tactical operations center. Altman has logged seven deployments during his 18 years in the military. U.S. Army photo by Sgt. 1st Class Dale Shade
CONTINGENCY OPERATING BASE ADDER, Iraq (American Forces Press Service) – For Army Sgt. William Altman, an operations noncommissioned officer with the 28th Combat Aviation Brigade, doing his job with excellence is the motivation that carries him through his daily shift.
"I just enjoy doing a good job," said Altman, an 18-year veteran with seven deployments under his belt. "Keeping the commander updated on the goings-on in our sector is pretty important, and is the objective."
Along with more than 20 other soldiers working various shifts and taskings, Altman is responsible for manning the brigade's tactical operations center, which requires vigilant manning 24 per day, seven days per week. For Altman, the brigade's blue force tracker and fires sergeant, continuity is often the greatest challenge.
"While we might work shifts, any issues must be resolved or worked to completion," Altman said. "Otherwise, we're creating a sort of 'butterfly effect' for the next shift."
Altman is no stranger to working in current operations. With his multiple deployments, Altman brings a trove of experience to a fairly reactive job often misunderstood by other soldiers.
"Other sections might work a normal work day and be closed for certain periods," Altman said. "Here, the lights never go out. Operations are continuous."
Fighting complacency and mid-deployment doldrums is essential to proficiency, he said. All soldiers, from the battle captain, who is the quarterback of the section, to the radio telephone operator who functions as the primary medium for passing and receiving information, must be cognizant of the big picture at all times. Soldiers must be prepared for the unexpected, including indirect fire attacks, small-arms fire attacks on aircraft and diverting air support for soldiers on the ground.
"We manage to handle high-stress events well, mostly because we all know our roles," Altman said. "Even when days are fairly quiet, we have to fight boredom by trying to stay proficient on our equipment."
Although the tempo occasionally slows, there is never a shortage of work for the soldiers. Altman and the staff keep busy by organizing various document binders, from fragmentary orders to Red Cross messages, maintaining the daily log, making changes to personnel flight manifestos, and keeping track of scheduled flights.
Soldiers also are trained on state-of-the-art electronic systems like the Blue Force Tracker, which uses global-positioning technology to view the location of aircraft and vehicles during missions. In addition, soldiers have more traditional methods of communication and battle-tracking tools at their disposal, to include instant messaging, phone lines and FM and high-frequency radios. Numerous maps and overlays line the walls of the operations center for reference and as an alternative method of tracking the location of aircraft.
"If technology fails, we still must be knowledgeable enough to be able to accomplish our mission," Altman said. "Pencils and paper, charts and darts; our jobs don't stop just because the technology stops working."
(Army Sgt. Brandon T. Metroka serves with the 28th Combat Aviation Brigade.)