Military Spouse Playwright Targets Domestic Abuse
Oct. 6, 2009
By Army Pfc. Victor J. Ayala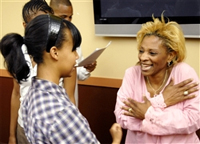 Domestic violence survivor, military spouse and playwright Carolyn Louise Herring Moore, right, goes over a scene with actress Jasmine Wilson at a play rehearsal in Fayetteville, N.C., Sept. 29, 2009. Moore wrote a play, "Women Shoptalk While Real Men Wait," about her experiences with domestic violence. U.S. Army photo by Pfc. Victor J. Ayala
FAYETTEVILLE, N.C. (American Forces Press Service) – The woman she sees in her bleaker yesterdays is unrecognizable to her now -- almost a stranger.
Her fear is gone, and there is strength in its place. She is outgoing again and pursuing dreams that for so long an abusive husband kept frozen in a life of total control and violence. What's more, she's doing her part to help people in the community suffering or recovering from domestic violence.
Carolyn Louise Herring Moore, a playwright, military spouse and Colorado Springs, Colo., native, is bringing her play, "Women Shoptalk While Real Men Wait," to Fayetteville State University's Seabrook Auditorium on Oct. 31 to wrap up National Domestic Violence Awareness Month.
Moore advertises strictly to domestic violence advocacy centers, military bases and family support groups.
"Women Shoptalk While Real Men Wait" tells the story of Moore's 10-year-long relationship with a controlling and abusive man. It details not only how she was affected, but also how her entire family and community were affected by the violence.
"The story is important, because people need to understand all the situations and different people affected by abuse," said Army Staff Sgt. Marcus Moore, Carolyn's second husband and Baltimore native. "Women are abused, men are abused and children are especially impacted. They grow up carrying that weight and can develop guilt and other issues."
It wasn't until nearly 10 years after escaping the relationship described in her play that Moore began writing it. Initially, she didn't have high expectations for the piece beyond a passing grade.
"I wrote it as a class project for an advanced film performance [class]," Moore said. "My professor handed me the play I'd given him and just said, 'Here.' I didn't know what he meant, because he hadn't done anything to it. I expected him to chop it up, but he said there was nothing he could do to it. He said it was time that I go out and help people with my story."
The play was first performed at the University of Colorado at Colorado Springs in 2007, where it received a standing ovation from a sold-out audience. Moore attributes the play's success to its honesty. For some performances, Moore even had to play herself, reliving some of the worst events of her life in front of strangers. "I couldn't do it the first several times the show went up," she said. "I just couldn't handle the domestic violence scene. I would fall apart every time in rehearsal. But whenever I couldn't find an actress, I was stuck with it. But after that first standing ovation, I knew I was doing something important."
Although having written the play and sometimes playing herself in the show has been a great therapy for her, Moore said, the road to recovery never is easy for any victim of domestic violence.
"After all these years, I don't know that I'm there yet," she said. "But people need to know that there is help out there, and shelter and peace out there. Find help and shelter. Find and seek a purpose. Once you do, you'll find life after abuse."
She also emphasizes the importance of trusting again. She has since remarried and is loved by her family.
"I have found a man who has given me strength," she said. "He has adopted my three children from my first marriage, my late brother's three children and given me six more beautiful children. They give me strength. Communicating with others who have been through what I've been through has also been a great help."
Since the play was first produced, Moore has been spreading her message of life after abuse to countless audiences, selling out shows and helping others through their own struggles with domestic violence.
"She is someone who has overcome," her husband said. "Someone who says, 'If I can recover and be successful, so can you.'" (Army Pfc. Victor J. Ayala serves with the 49th Public Affairs Detachment.)