Stryker Force Ready, on Call for Iraq
By Spc. L.B. Edgar
7th Mobile Public Affairs Detachment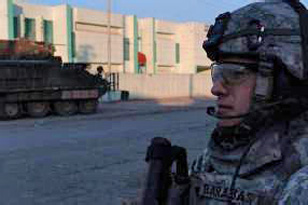 CAMP STRIKER, Iraq, Jan. 23, 2007 — Strike hard! Strike fast! This could be the motto for the Stryker Readiness Force–Iraq, whose mission is to respond to threats across the battlefield of Operation Iraqi Freedom.

"We do time sensitive targets (and) neighborhood clearances all around the city and its outlying areas," said Staff Sgt. Gary Epley, a platoon sergeant with Company A, 2nd Battalion, 3rd Infantry Regiment and a native of Louisville, Ky. "We have a secondary mission to deploy anywhere in Iraq between 24 and 72 hours in support of Coalition Forces and Iraqi interests throughout the country."

Part of what makes Stryker units so effective on the battlefield is their mobility, Epley said.

"There's nothing else like it," he said. "You can't replicate the speed and force we bring into a fight. It just can't be done." Each Stryker carries a squad of infantrymen or cavalry scouts to the front, where they quickly and efficiently flood the battle space, Epley said.

Though they don't "own" any part of the Iraqi capital, the unit adapts to an ever-changing battlefield, said Capt. Brent Clemmer, commanding officer of Company C. "We create a condition that allows for other security forces to come in a safe manner," said Clemmer, who is a native of San Diego.

In 2002, the 3rd Brigade, 2nd Infantry Division was the first brigade in the Army to be outfitted with the Stryker.


San Francisco native Spc. Art Barajas, a sniper with Company C, 2nd Battalion, 3rd Infantry Regiment, 3rd Stryker Brigade Combat Team, 2nd Infantry Division, pulls security in Baghdad's Al-Doura district Jan.18. The unit conducted clearing missions in the district aimed at improving security for residents of the area and finding weapons caches. U.S. Army photo by Spc. L.B. Edgar

The unit conducted a round of initial training, as well as trips to the Joint Readiness Training Center on Fort Polk, La., and the National Training Center on Fort Irwin, Calif. Subsequently, the unit deployed to Mosul, Iraq, for a yearlong deployment, Epley said.

After redeploying, the unit ramped up for its second deployment 15 months later. "We were the first Stryker unit to come to Iraq," Epley said. "Now, we're the first Stryker unit to be deployed back to Iraq.

"I think we have excelled thus far in the missions we have had. I believe to have a unit, which is as mobile as we are, that can go anywhere in Iraq in literally hours to do somebody else's mission, is irreplaceable," Epley said.

While the Stryker vehicle, itself, has proven its worth on the battlefields of the global war on terrorism, it's the soldiers manning the vehicle who deserve most the credit, Clemmer said. "The most powerful tool America has out here are these young American soldiers. They amaze me every day," he said. "They do an incredibly tough job and they do it very well.