Outgoing Commander Says U.S. Commitment Will Live On in Afghanistan
Special to American Forces Press Service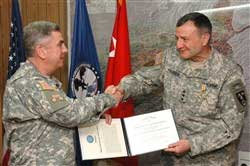 KABUL, Afghanistan, Jan. 21, 2007 – The outgoing commander of Combined Forces Command-Afghanistan said the United States is committed to NATO's success in Afghanistan and will remain the single largest contributor of troops to the mission.
Army Gen. John Abizaid, left, presents Lt. Gen. Karl Eikenberry with the Defense Distinguished Service Medal Jan. 21 in Kabul, Afghanistan, for his service as commander of Combined Forces Command-Afghanistan since May 2005. U.S. Air Force photo by Tech. Sgt. Christopher DeWitt '(Click photo for screen-resolution image);high-resolution image available.
"The U.S. is a member of NATO. NATO's success is the U.S.'s success, which is Afghanistan's success," said Army Lt. Gen. Karl W. Eikenberry, commander of the U.S.-led Coalition since May 2005.
More than 23,000 service members are in Afghanistan, the highest level since Operation Enduring Freedom began in Afghanistan in October 2001.
NATO's International Security Assistance Force has responsibility for security operations of international military forces throughout the country. Twenty six NATO countries and 11 other nations are "fully committed to making Afghanistan a viable, self-sustaining country free from international terror," Eikenberry said.
Eikenberry left today after a ceremony in which the command and its accomplishments were honored. Eikenberry has been nominated to serve as the deputy chairman of the NATO Military Committee in Brussels, Belgium.
The Coalition headquarters of CFC-A is expected to inactivate sometime in the coming weeks. The Combined Joint Task Force 76, a two-star U.S. command headquartered on Bagram Airfield, will assume responsibility as the National Command Element for U.S. forces in Afghanistan. Combined Security Transition Command-Afghanistan, or CSTC-A, the other two-star U.S. command, is charged with training and mentoring the Afghan National Security Forces.
Army Gen. John Abizaid, U.S. Central Command commander, presented CFC-A with the Joint Meritorious Unit Award, its third since the command was created in October 2003. CSTC-A also received the JMUA.
The honor is one of which "all of us can be justifiably proud. But the mission of U.S. forces in Afghanistan continues," Eikenberry said.
That mission includes conducting counter-terrorism operations, continuing to help train the Afghan National Army and Afghan National Police, and executing billions of dollars in reconstruction projects.
"We are fighting a very different war," he explained. "In this war, we are trying to build schools and clinics, we are trying to build roads, and we are trying to help the Afghan people reclaim their middle ground of civil society. What do we need most to succeed here? We need more time, more patience, and more commitment."
Some of the successes already achieved by U.S. and coalition forces include building more than 11,000 kilometers of roads, more than 700 clinics, and hundreds of schools for more than 6 million children.
(From a Combined Forces Command Afghanistan press release.)