Chinese Missile Destroys Satellite
January 19, 2007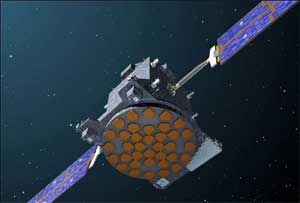 China has conducted an anti-satellite weapons test in which an old Chinese weather satellite was destroyed by a balistic missile. The Chinese authorities have not confirmed a US report that it blew up one of its own aged weather satellites last Thursday with a ballistic missile fired from the Xichang space centre in Sichuan province.

There is stony silence on the subject in the Chinese media today as concern grows in the US and in the region about the prospect of an arms race in space.

If the test is confirmed, China will become the third country after the United States and the former Soviet Union to shoot down an object in space, indicating the Asian power could target satellites operated by other nations.

The United States, Japan, Australia and a host of other countries voiced concern on Friday.

Japan's chief cabinet secretary, Yasuhisa Shiozaki, said his government had asked China for confirmation, and for an explanation of what its intentions were.

"We are concerned about it firstly from the point of view of peaceful use of space, and secondly from the safety perspective," Mr Shiozaki said.

Gordon Johndroe, spokesman for the American National Security Council, said the US "believes China's development and testing of such weapons is inconsistent with the spirit of co-operation that both countries aspire to in the civil space area".

Alexander Downer, Australia's foreign minister, said his country did not want to see "some sort of spread, if you like, of an arms race into outer space".

Taro Aso, the Japanese foreign minister, said the Chinese had sought to reassure Japan its intentions in space were of no threat to anyone.

"China consistently uses space only for peaceful purposes," Mr Aso quoted the Chinese foreign ministry as saying.

The comments fit with the ruling Communist Party's mantra in recent years that the nation's rise as a world superpower should not be feared.

China joined the exclusive club of top space nations in 2003 when it sent up its first manned mission, joining the United States and Russia.

China spends 500 million dollars a year on its space programmes, according to official figures, while NASA's proposed budget for 2007 is nearly 17 billion dollars.

But the United States has consistently deflected Chinese advances for closer cooperation on the two nations' space programmes because of concerns about the involvement of China's military.

A Chinese government defence paper released last month said that its defence expenditure had grown by more than 15 percent every year since 1990.