Gates, Scheffer Discuss NATO Ops, Way Forward
By Jim Garamone
American Forces Press Service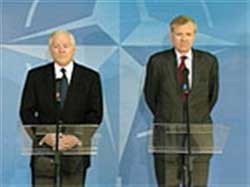 BRUSSELS, Belgium, Jan. 15, 2007 – NATO operations in Afghanistan, NATO's ongoing transformation, Kosovo and the general state of the North Atlantic alliance were on the table as Defense Secretary Robert M. Gates met here today with NATO Secretary General Jaap de Hoop Scheffer.

Gates met with British officials yesterday in London and NATO officials today. Senior officials traveling with Gates said the visits so soon after taking office emphasize how important the secretary believes the alliance is to America.

Afghanistan was an important discussion point. There are about 30,000 soldiers from 37 NATO and partner countries serving as part of NATO's International Security Assistance Force. Gates called the NATO mission in Afghanistan a model of the organization's potential in the new era. "Success in Afghanistan is our top priority," he said.

"The alliance that never fired a shot in the Cold War is leading six missions on three continents an on the Mediterranean," he said.

Gates said NATO has made much progress since 2003 and called on its members to fulfill the commitments they made. "I'm confident that we can meet and overcome any challenge in the future," he said.

Gates said he is pleased with the progress of the NATO Response Force, declared operational at the Riga, Latvia Summit in November.

But much work remains to ensure NATO is prepared to 21st-century challenges, he said. NATO must continue to work on a strategic airlift capability, global partnership alliance, the special operations forces initiative and training cooperation initiative, he said.

"NATO was formed in the belief that together we are stronger than when we act alone," Gates said. "That belief has sustained the alliance now for nearly six decades. It sustains us today as we face a new series of challenges and threats."

Gates also met with Army Gen. Bantz Craddock, NATO's supreme allied commander.