Paratroopers Bringing Physical Therapy to the Front Line
by Spc. Joshua R. Ford
3rd BCT, 82nd Airborne Division PAO
January 2, 2007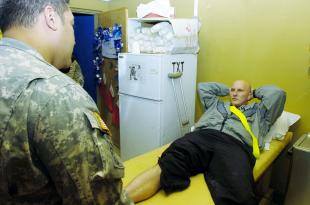 CONTINGENCY OPERATIONS BASE SPEICHER, Iraq — Day in and day out, troops patrol the streets and countryside of Iraq for hours at a time; many carrying up to 100 pounds of gear. Over time, this excessive wear on the troops may lead to back or other injuries later on in life.

Fortunately, physical therapy teams are now permanent and internal to each brigade combat team in the Army.

Capt. Andrew Contreras, brigade physical therapist, and Staff Sgt. Melinda Sanders, physical therapy noncommissioned officer, both with Company C, 82nd Brigade Support Battalion, 3rd BCT, 82nd Airborne Division, make up the first brigade physical therapy team in the 82nd Abn. Div.

The two keep busy from constant travel to and from outlying forward operating bases throughout 3BCT's area of operation in Salah ad Din Province.

Contreras and Sanders have treated over 1,500 patients – not including the Iraqis they have treated – since they first deployed in August.

Every time the team goes to outlying FOBs they not only fulfill their obligation to their fellow Paratroopers, but they also treat Iraqi patients and teach them different exercises they can do to help heal their injuries. This has made it convenient for all of their patients, said Contreras.

"It is a lot easier for us to move around than it is to move people to see me," said Contreras. "So rather than me sit on Speicher, it's easier to jump on a convoy or catch a flight."

The team has prevented the battalions from losing manpower when one of their Paratroopers needs treatment. It takes too long for the individual to travel to where he is, said Contreras.

"If a guy has to come to Speicher, that's one day shot and battalions don't have the manpower for people to be gone for two or three days," said Contreras.

The team spends around 20 days a month traveling. They provide relief to their patients by cracking necks, adjusting backs, and putting bodies back into alignment. The treatment is allowing patients to function in spite of the uncomfortable gear, according to the physical therapy team.

Since the team has been reaching out to Paratroopers, complaints about the body armor have been minimal, said Maj. Christian Meko, brigade surgeon for the 3rd Brigade Combat Team, 82nd Abn. Div.

"The most common injuries we see are back problems because of all the equipment we're wearing, the amount of time people are working, and the guys' living conditions [sleeping on cots]," said Contreras.

Other common injuries include ankle and knee problems caused by walking or running on uneven terrain and mounting and dismounting vehicles, and conducting night operations where vision is limited, according to the team.

So far, the physical therapy duo has treated ten to fifteen Paratroopers who suffered from small arms-fire wounds and has kept them all in-country; whereas before, they would have to go miles away to Germany for treatment.

The Army's traveling physical therapy teams have been a fantastic addition to the brigades, said Meko. When Paratroopers are injured, the medical team has been able to get them back to the fight a lot quicker.

"A lot of guys have been able to be treated here instead of having to be sent home, keeping combat strength in the battalions higher," said Meko.

"Before we got to the brigade, it would take guys eight to nine weeks to get back to duty, but with us here, it has gotten most patients back to duty in three weeks," said Contreras.

Contreras and Sanders said they will continue to travel to the outlying bases to provide their convenient services to 82nd Airborne Division Paratroopers, who have a renowned history of being fit and combat-ready.