Family Readiness Group of Athens Celebrates Christmas
Like any support group the Family Readiness Groups draw their strength from each other and from the support they find in their community.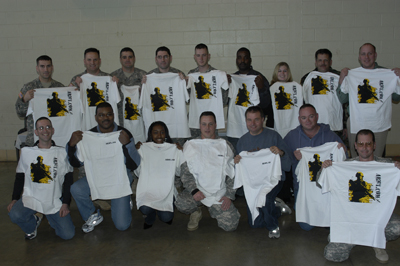 FRG Members with Army.com T-Shirts
The FRG in Athens, AL provides support for the families of the soldiers of the HHD 1st 203rd MP Battalion by providing educational training, volunteer work, and support to the families of the soldiers to help them meet the challenges of military life.
The group celebrated Christmas with a Party on December 3rd, 2006 at which they raised money for thier projects, shared food and other activities. The group works on fundraising projects to support their chapter but Community support is also crucial to groups like this. Army.com contributed door prizes and gifts to help them with fund raising and to spread some Christmas cheer among the members.

FRG Member shows off an IPOD donated by Army.com
As the Army transforms it is drawing more and more from its pool of "everyday heroes," namely the National Guard and the Reserve. These soldiers work hard everyday at jobs from every walk of life. They are subject to being called to active duty in times of crisis or war.
The Family Readiness Group, formerly known as the Family Support Group (FSG), is a concept that had early roots among Army families, who banded together during war or tours overseas or other isolated locations, to provide information, moral support, and social outlets to their members. The Army focused sharply on family readiness as a result of lessons learned during the 1990–91 Gulf War. On 1 June 2000, Department of the Army renamed it Family Readiness Group to emphasize the need for readiness and self-sufficiency among Army families in the modern Army.
The FRG hopes to fill many important roles for these soldiers and their families, including:
build soldier and family cohesion and morale;
prepare soldiers and families for separation during deployments;
prepare soldiers and families for the stresses of reunion;
reduce soldier and family stress;
reduce the commander's and other leaders' workloads;
help soldiers focus on their mission during deployments;
help families become more self-sufficient;
provide an avenue for sharing timely, accurate information; and
promote better use of post and community resources.
News and information about Family Programs and resources can be found by visiting MyArmyLifeToo.com, The Website of Choice for Army Families, sponsored by U.S. Army Community and Family Support Center, Family Programs Directorate.