BIKES OR BUST

Huntsville AL December 10, 2006 All war and no play? Not for the U.S. Marines and Huntsville, Alabama's Mojo."
104.3 ZYP's "Mojo" spent 104 hours on a scissor lift 40 feet in the air. Why? Because he's crazy? Not really. He braved the elements to add fuel to the U.S. Marine Corps Toys for Tots bicycle drive.
It's the most talked about fundraiser in the Tennessee Valley! It brings joy to many children who, otherwise, would not be able to celebrate Christmas. 2,446 kids will enjoy the ultimate Christmas gift.....A new bike!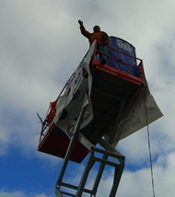 Mojo waves from his 40 foot perch.
104.3 ZYP
joined the U.S. Marine Corps, Ashley Furniture, Woody Anderson Ford, Madison RV, various businesses and listeners to collect 2,446 brand new bikes for Toys for Tots.
Toys for Tots is the perfect project for your inner child – toys, toys, toys! For the past 55 years, Toys for Tots has distributed toys to the needy children of the community through the generous sponsorhsip of the United States Marine Corp.
If you would like to donate, the toys can be dropped off until December 19th at 3506 South Memorial Parkway and Woody Anderson Ford right off of Jordan Lane everyday from 7:30 am to 4:30 pm. Contact Gunnery Sergeant Ronald Williams at 213-9683 or 990-0239, or email him at williamsrw1@mrf.usmc.mil.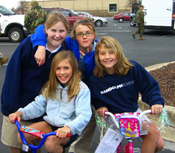 Randolph School students stopped by with a trailer full of bikes.
Army.com made it by to donate some bikes on Monday afternoon and Randolph School students pulled up with a trailer load of bikes!
Marine Toys For Tots
Through the gift of a shiny new toy, the Marine Toys for Tots Foundation provides happiness and hope to disadvantaged children who might otherwise be overlooked this holiday season. Sponsor a toy and give a child recognition, confidence and a positive memory for a lifetime.
Toys for Tots is a 59-year tradition of the U.S. Marine Corps Reserves and is an IRS recognized 501(c)(3) not-for-profit public charity. In 2005, Toys for Tots delivered more than 18.5 million toys to over 7.4 million children. Unfortunately, with over 13 million children living in poverty, Toys for Tots needs your help more than ever to achieve our goal of delivering a toy to every child in need.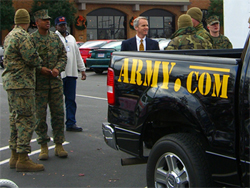 Marines unload bikes from the Army.com truck.
About Toys for Tots
Mission: The mission of the U.S. Marine Corps Reserve Toys for Tots Program is to collect new, unwrapped toys during October, November and December each year, and distribute those toys as Christmas gifts to needy children in the community in which the campaign is conducted.
Goal: The primary goal of Toys for Tots is to deliver, through a shiny new toy at Christmas, a message of hope to needy youngsters that will motivate them to grow into responsible, productive, patriotic citizens and community leaders.
Objectives: The objectives of Toys for Tots are to help needy children throughout the United States experience the joy of Christmas; to play an active role in the development of one of our nation's most valuable natural resources - our children; to unite all members of local communities in a common cause for three months each year during the annual toy collection and distribution campaign; and to contribute to better communities in the future.
Activities: The principal Toys for Tots activities which take place each year are the collection and distribution of toys in the communities in which a Marine Corps Reserve Unit is located and in communities without a Reserve Unit that has a Marine Corps League Detachment or group of men and women, generally veteran Marines, authorized by Marine Toys for Tots Foundation to conduct a local Toys for Tots campaign. Local Toys for Tots Campaign Coordinators conduct an array of activities throughout the year, which include golf tournaments, foot races, bicycle races and other purely voluntary events designed to increase interest in Toys for Tots, and concurrently generate toy and monetary donations.