Army Copter
Your in an Army Copter and you got to kick some backside!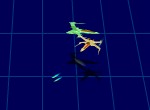 Air Wolf
Fight off the opponent to rise through to victory

3D Swat
Train yourself to be the best, Just like the Professionals

Alien Scum Slaughter
Kill those aliens, save us!

Splat
A simple shooting game shot the little green people you have 20 secs to kill as many as posable...

2D Shootout
Draw your pistol revolver magnum and shoot down the cowboys in this desert town....

3D Shooter
Shoot down the targets within a limited time reload your rifle.

Aircraft Lander
Fly the plane around with left and right arrow keys and land it on the airport runway when all your...

Alien Invasion
Use your movable cannon to fire missiles at invading UFOs move the cannon to move the guidance rocke...

Alien Invasion 2
Fly your space cruiser through the urban streets of this city shoot down UFOs and little green alien...

Attack of Infections
Fly your ship around the planet shooting down ugly strange aliens.

Attack of the Influenza Birds
Shoot down those infectious turkeys.

Base Defense 2
Defend your base against enemy soldiers tanks robots and aircrafts by shooting them with your can...

Basted in Blood
This town is blah shoot the turkeys but avoid shooting the babies.

Bleed: The Game
Go through dark corridors and rooms of this haunted house kill deadly poisonous bats and zombies....