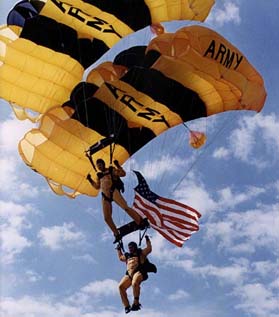 Being the goodwill ambassadors for the U.S. Army is a big job, one the U.S. Army Parachute Team (USAPT), "Golden Knights" thrives on. Soldiers on the Golden Knights do their best work at 12,500 feet above the earth's surface, racing to the ground at speeds in excess of 120 mph and landing with smiles, ready to do it all again, in front of 20,000 spectators.
The Team is composed of five sections:
Black Demonstration Team
Gold Demonstration Team
Style and Accuracy Competition Team
4 Way Formation Competition Team
Tandem Team
In addition to the skydivers, the team also has an Aviation section, referred to as "Team Six" which is the Headquarters element consisting of administration, operations, budget, media relations, parachute maintenance and supply.
Since its inception, the Team's mission has remained the same: (1) To perform live aerial demonstrations for the public and in promotion of the Army's public relations and recruitment efforts; (2) to compete in national and international parachuting competitions; and (3) to test and evaluate new parachuting equipment and techniques for improved operation and safety. Now in their 44th year of entertaining both young and old with their amazing aerial skills, the men and women that make up the "Golden Knights" continue to show audiences around the world why they are considered the world's best parachute team.
Stationed at the "Home of the Airborne," Fort Bragg, North Carolina, the 90 soldiers that make up the "Golden Knights" come from many diverse backgrounds and have been trained in one of the 200 military occupational specialties the Army offers. In 1959, Brig. Gen Joseph Stillwell, then Chief of Staff of XVIII Airborne Corps and Fort Bragg, formed the Strategic Army Corps Sport Parachute Team to compete in the then Communist dominated sport of skydiving. On June 1, 1961, the Army officially recognized, redesigned and activated the team as the United States Army Parachute Team. Since then the team has performed more then 8,500 live aerial demonstrations in all 50 states and 47 countries. Each year, the team performs before millions of people.
The Black and Gold Demonstration Teams spend more than 270 days a year entertaining more than 12 million people at air shows and special events around the country and the world. The teams have performed more than 8,500 live aerial demonstrations in all 50 states and 47 countries, earning them the title of the "Army's Goodwill Ambassadors to the World."
Visit their website for more information and performance schedules.
Go BACK