Soldiers Invest in Iraq's Next Generation
Dec. 7, 2009
By Army Capt. John Landry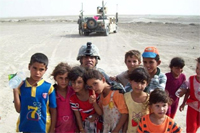 Iraqi children surround Army Staff Sgt. Danillo Martinez after singing an Arabic song in Harbi Village, Iraq, Nov. 1, 2009. U.S. Army photo by Pfc. Ronald Leydet
CONTINGENCY OPERATING BASE ADDER, Iraq (American Forces Press Service) – Educating children might not be the first thing Americans discuss when the subject of Iraq comes up, but for the soldiers of Task Force Pathfinder here, helping the next generation of Iraqis obtain a basic education is a critical part of their mission.
For Iraq to be safe and stable when U.S. soldiers depart, it must have the social infrastructure required to sustain the progress made.
Prior to deployment, soldiers train to perform conventional military tasks and deploy with confidence in their abilities. The soldiers of Task Force Pathfinder took their training one step further, adding a range of civil affairs and project-management skills to their pre-deployment preparations, and since arriving in Iraq, they have adapted to a new role.
The soldiers of the 1st Armored Division's 4th Brigade Combat Team now provide military support to civil-capacity operations, combining their movement and security expertise with a broader understanding of economic and social development as part of the Army's first "advise and assist" brigade.
Supporting civil capacity is an important component of the advise-and-assist mission. In southern Iraq, this means working alongside the State Department's provincial reconstruction teams, assisting efforts that range from providing clean drinking water to repairing damaged hospitals.
Among these many efforts, educating the children of Iraq is an important facet.
"We have made great progress in this country," said Army Lt. Col. Michael Eastman, commander of Task Force Pathfinder. "Sustaining those gains beyond an American presence here requires that the next generation of Iraqi leaders have access to a basic education."
More than simply delivering school books and supplies, the soldiers' efforts include improving and expanding the existing infrastructure by renovating damaged buildings, building new schools in remote locations, providing electrical access and equipping them with supplies and furniture.
In Muthanna province alone, the soldiers of "Able" Company, an infantry unit assigned to the task force, provided project oversight and security for the construction of two new, four-room schools, one school renovation and three corresponding electrical extensions. By adding electricity to the schools, the soldiers created a learning environment safe from the elements and capable of bringing increasing exposure to outside information.
Based on this initial success, the assigned Army civil affairs team assumed responsibility for an additional three schools and the corresponding electrical extension projects.
"We see it as an investment in Iraq's next generation and pivotal to long-term, sustained national growth," said Army Capt. Michael Martin, "A" Company, 1st Battalion, 77th Armor Regiment, attached to Task Force Pathfinder.
Army Staff Sgt. Danillo Martinez added that the soldiers' efforts don't just provide "big-picture" benefits. "Positively affecting the life of one child is what makes it all worth it," he said.
(Army Capt. John Landry of the 1st Armored Division's 4th Brigade Combat Team serves with Task Force Pathfinder.)