Army.com Chat and Instant Messenger Go Live!

Join now and create a Profile – invite friends and family, and enjoy live Chat, file sharing, photos, and more.
Perfect for keeping in touch with friends and family, including deployed loved ones, Army.com's new Chat and Instant Messenger are now live. This free, web-based service requires no software downloads and is compatible with any web browser.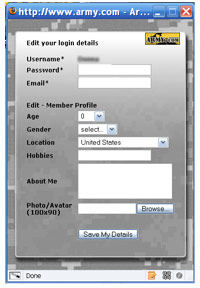 Share files, use emoticons, and use Intelli-link Technology to convert website links and email addresses into links clickable by other users. Print out your Chat and Instant Messenger conversations to save.
Live Chat
Connect with friends and family in private one-on-one conversations or in multi-user chat rooms with unlimited sub rooms. When you enter a room, a list of all chat room users displays, where you can view profiles and opt for private chat.
Member Profiles and Chat Options
Create a Member Profile and view other Member Profiles.If the person you are trying to contact does not respond, you can send an e-mail notification of your attempt. You can also reject or block contact from unwanted members, with the option to unblock them in the future.
Instant Messenger
You can search members by age, gender, and location, and the results will provide photos and the option to view profile, chat, or add to contacts.
Invite friends to join by email.
Add a photo to your profile.
Set your online status (here, away, brb) and even set your status to hidden (you will appear offline to other members).
Create a buddy list, with links for View Profile and Chat.
See who is online with the visual online/offline indicator.
You will receive a popup notification of new chat requests, and you can view the member's profile and accept or reject the invitation.
Use customizable fonts and colors.
Get your free username today!