Tuesday December 15

Intelligence Career Webinar
Author and adjunct professor Tom Hunter (whose op-ed and new book I recently shared) will lead HPU's next free "Insider's Guide" webinar, Insider's Guide to Careers in Intelligence Analysis, on Thursday, December 17, from 11:00 AM - 12:00 PM PST.


Services Meet Recruiting Goals
The active-duty services met or exceeded their November recruiting goals, Defense Department officials announced today.


Iraq's Next Generation
Educating children might not be the first thing Americans discuss when the subject of Iraq comes up, but for the soldiers of Task Force Pathfinder here, helping the next generation of Iraqis obtain a basic education is a critical part of their mission.


Review Auto Insurance for Savings
With service members relocating every two to four years on average, military personnel and their families must re-evaluate their insurance coverage more often than most.


"I Am An American"
The song is called "I Am An American," and I'd like to tell you all about what motivated me to produce this project.


Obama Calls for Another 30,000 Troops
It is in America's vital national interests to send another 30,000 U.S. troops to Afghanistan, President Barack Obama said tonight during a speech at West Point, N.Y.


What Branch of Service is Right for Me?
Boot Camp is a lot tougher than one can imagine. For most people, deciding which branch of service to join isn't difficult.

Tuesday December 01

Respite Child Care Expands to All 50 States
It's a few hours a month, but the break the Armed Services YMCA Respite Child Care program provides parents with a deployed spouse always is welcome. And since the program's Oct. 1 nationwide expansion, many more parents will benefit.


Army Training Network One-Stop for Answers
The Army Training Network continues to grow and change since it went online in April with the mission of becoming the one-stop shop and information source for Army training.


Network Challenge Competition
The Defense Advanced Research Projects Agency will take the Internet technology it helped create 40 years ago a step farther this weekend with a contest aimed at bringing people together to solve tough problems.


Prepare Your Finances for Deployment
Military families know that deployments are a fact of life. But many families aren't financially prepared to handle the sudden absence of one or even both spouses.


HooahMail Delivers to Soldiers
The Army's HooahMail program makes it possible for friends and family members to put a paper letter and photograph into the hands of their loved ones in Afghanistan, in some cases, on the same day it's sent.


More NATO Troops for Afghanistan
Should President Barack Obama's anticipated Afghanistan strategy announcement call for more U.S. troops, Defense Department and White House officials would expect a greater contribution from their NATO allies, Pentagon Press Secretary Geoff Morrell said today.

Tuesday November 17

Buffalo Bills Military Discount
All Military personnel are eligible to receive a $10 per ticket discount off the $45 seats for the Indianapolis Colts game on January 3, 2010.

Monday November 16

Holiday Mailing Guidelines
U.S. Postal Service officials have announced recommended mailing dates for delivery by Christmas to U.S. servicemembers serving in Afghanistan and other overseas locations.


Review of Fort Hood Prelude
WASHINGTON (American Forces Press Service) – President Barack Obama used his weekly address today to call for a careful and complete review of what happened before the Nov. 5 tragedy at Fort Hood, Texas.


Pledge Support for Hiring Veterans
Obama signed the executive order Nov. 9 that calls on each federal agency to establish a veterans' employment program office designed to help former servicemembers get through the maze of paperwork as they apply for federal positions.


What You Don't Know About Basic Training
So you heard the rumors and stories about basic training, but have you heard the facts? From someone who has coached thousands of recruits through basic training, I have heard every question imaginable:


October Recruiting Goals
All active-duty and reserve-component military branches met or exceeded their recruiting goals for October, Defense Department officials said.


MTV Documentary Follows Soldier
MTV will honor America's veterans and servicemembers Wednesday by following a young noncommissioned officer as he returns to the battlefields of Iraq.

Monday November 02

Effort Fuels Laptops for Wounded Troops
Divided among four "virtual teams," a wide variety of bloggers and other New Media mavens are competing on the Internet to see who can inspire the most donations to help wounded troops.


Pay Raise for Military
The authorization act provides for a 3.4 percent pay raise for military members, improves care for wounded warriors and expands family leave rights.

Sunday November 01

Post 9/11 GI Bill: Eligibility, Entitlements, Applying
The Post-9/11 GI Bill program began funding veterans' aspirations for higher education this semester.


Military Family Month
President Barack Obama pledged his support of military members and their families and said Americans have a "solemn obligation" to preserve their well-being in his proclamation declaring November as Military Family Month.


Talking With Your Family About Deployment
Whether you need to leave at a moment's notice or have weeks to prepare, talking to your family about deployment is crucial. You may be busy planning the practical matters of going away, but sitting down to discuss the emotional aspects of a deployment is just as important.


Get On Your Drill Sergeant's Good Side
Drill sergeants will undoubtedly treat you like you have never been treated before.


First Lady to Help Military Families
First Lady Michelle Obama today vowed to make the voices of U.S. military families heard in the nation's capital, and called on Americans to recognize the sacrifices made by those in uniform and their loved ones.

Thursday October 15

Army Answering Flood of GI Bill Questions
A new GI Bill Web page has launched by the Army's G-1...


AKO 'Go Mobile' Virtual Desktop
By January, Soldiers on the go will be able to do just about anything they do now on their desktop computer if they're issued portable equipment attached to a cell phone.


Life Insurance That Fits Military Needs
Service members who sign up for our Military Protection Plus plan receive our level term policy, which automatically includes these benefits at no additional cost.1


Are You Ready for Basic Training?
Do you think you're ready for your Drill Sergeants? Have you been preparing properly?


MREs No Longer 'Mystery Meat'
DoD's Combat Feeding Directorate set up an elaborate display with interactive activities on the floor of the AUSA Annual Meeting and Symposium, including a place for Soldiers to taste-test new ration items.


Services Show Record Recruiting Year
The military services' active and reserve components notched record recruiting numbers and signed up the highest-quality recruits ever in fiscal 2009, senior defense officials said today.

Thursday October 01

Tattoos and the Army
While styles and themes vary greatly depending on the tastes of each individual, there are definite trends among Army tattoo enthusiasts, with a large number of tattooed Soldiers sporting Americana- and military-themed ink.


Financial Checklist for Deployment
Waiting until you get orders to deploy may be too late to start building a solid financial plan, so start preparing today. If you need help, refer to the following checklist.


I Want My Mommy!
Being isolated from your kids, spouse, parents, etc. for an extended period of time can be as stressful as not being prepared to face drill sergeants. No one ever said joining the military would be easy.


Homeowners Assistance Program Details
Defense Department officials today announced the details for distributing $555 million available under the Homeowners Assistance Program.


Checks to Students Awaiting Benefits
Checks for up to $3,000 soon will be available to students who have applied for Veterans Affairs educational benefits and who have not yet received their government payment.


One-time Enemies Become Brothers
The moon was full the night of Jan. 17, 1991, and Air Force Capt. Bill Iuliano, an F-111 bomber weapon systems officer, was in the air. It was the second night of Operation Desert Storm, a U.S.-led combat operation in opposition to Saddam Hussein's forces.


Stars Lead Effort to Benefit Military Medicine
Grammy Award-winning country music stars Tim McGraw and Faith Hill are teaming up with civilian and military medical experts to further medical innovations and quality-of-life research for America's battle-wounded, ill and injured warriors.

Tuesday September 15

Fort Bragg Couple Tackles Army Life
Deny and Catilina Caballero got married in April. By summer's end, both would be deploying to Iraq, separated by hundreds of square miles of baking sand, blast walls of their forward operating bases, and the commitment of the mission.


Soldier Appears on T.V. Game Show
When a Fort Campbell 3rd Brigade Combat Team Soldier went to Nashville to audition for the game show, "Who Wants to be a Millionaire" he never expected to make it all the way to the hot seat in New York.


Military Children's Education Issues
Of the 1.2 million military children, only about 85,000 attend Defense Department schools. The rest attend public schools - where their nonmilitary schoolmates often don't understand or relate to their lifestyle and the difficulties they face, and staffs too often aren't equipped to offer the support they need.


AAFES takes Message 'To The Streets'
The Army and Air Force Exchange Service is hitting the road with a message that says the Army cares.


Estate Plan Protects You and Your Loved Ones
There is a common misperception that only wealthy people need an estate plan.


Be Prepared for Basic Training
Arm yourself with knowledge before you leave for basic training. Much of what you learn in basic training can be mastered at home before you even see a Drill Sergeant.

Tuesday September 01

Blog Offers Support to Military Families
The Defense Department has launched a blog called "Family Matters" that is dedicated to providing resources and support to military families.


New GI Bill will Heighten Work Force
More college-educated professionals will enter the next generation's professional work force as a result of the Post-9/11 GI Bill, Veterans Affairs Secretary Eric K. Shinseki said this week at the American Legion's 91st National Convention in Louisville, Ky.


New Online Program to Track Students
GradeSpeed is a Web-based program that enables parents to log-in to view grade and attendance data for their student(s). GradeSpeed will be the only authorized and supported grade book used by DoDEA employees in Grades 4-12.


Deployed Member Benefits
For those currently serving, or having served, we specialize in understanding your financial needs, from deployment to military retirement.


No-Cost Home Security Systems
National Advocates for Military Families has made getting a home security system a reality for thousands of soldiers nationwide.


Top 5 Reasons People Fear Boot Camp
Fear is a recruit's number one enemy. I have learned what these recruits fear the most and what they don't fear at all.

Saturday August 15

I Want My Mommy!
Don't worry, homesicknesses is common at military basic training. No one ever said joining the military would be easy.


'GI Joe' Now in Combat Theater
One of the Soldiers in the opening scene of "GI Joe: The Rise of Cobra," wasn't able to see the film's debut this week.


Summer Recruiting Remains Strong
July was a boom month for military recruiting, with more than 15,000 young men and women entering the active-duty force, defense officials reported today.


Re-Launch Laptops For Flat Tops
INDIANAPOLIS – AllAmericanDirect.com, a leading e-commerce provider of consumer electronics and satellite services, announced the company's third Laptops for Flat Tops contest, which will award one laptop with an embedded Webcam (for the family) and an additional Webcam (for the soldier) to two families who have an immediate family member serving in any branch of the U.S. military overseas.


Going to School Online While Serving
For those who want to earn a college degree, but feel like they just don't have enough time to go to college, or for those who may be stationed far from their chosen school, an online education might be the perfect avenue for getting that college diploma.


Army Soldier Show Begins 2nd Half of Tour
The Army Soldier Show, on the road since the April 24 performance at its Fort Belvoir, Va., home garrison, "just completed their first show of literally, the second half of their tour in downtown San Antonio, Texas, just off base from what will become its new home garrison at Fort Sam Houston, Texas.

Friday August 14

Tricare Highlights New Programs
Tricare is enhancing its programs and services as part of an ongoing commitment to provide quality health care for military families, the new deputy director of Tricare Management Activity said.

Monday August 03

Soldiers, Families Stay Connected
In reality, a reading program allows Soldiers in Iraq an opportunity to reach across the miles and be part of their children's wonder and imagination.


Sesame Workshop to Help Children
"Sesame Street" usually conjures visions of Muppets teaching young children their letters and numbers, but they also teach life lessons to help military children cope with deployments, injuries, and now, loss.


Increase of 22,000 Soldiers
Defense Secretary Robert M. Gates today announced plans to add up to 22,000 soldiers to the U.S. Army's ranks.


Webster University Offers Credits
Army Civilian Corps senior leaders now have another incentive for attending the Army Management Staff College


New GI Bill Transfer Takes Effect
Career servicemembers on active duty or in the selected reserve on Aug. 1 may be entitled to transfer all or a portion of their unused entitlement to one or more family members.


Military Get-A-Way Give-A-Way
If you are in active military or Coast Guard protecting our country, or a disabled veteran, you are eligible to 'get-a-way!'


8 Ways to Drive a Car Bargain
If you have good credit and know a few tricks of the trade, you could drive home a great bargain with ease. Car buying, with the right tools, can minimize the stresses often associated with visiting the dealership.


The Top 5 Basic Training Video Tips
If you are going to basic training in the near future, then this article is for you.

Wednesday July 15

1,200 Schools Join VA in New GI Bill
Over 1,100 colleges, universities and schools across the country have entered into "Yellow Ribbon" program agreements with the Department of Veterans Affairs (VA) to improve financial aid for Veterans participating in the Post-9/11 GI Bill.


Top 5 Secret Tips for Basic Training
Many recruits aren't aware of the secret tips you can learn before you arrive to basic training to make your time at boot camp much more enjoyable.


Soldiers Can Now Order New Uniform Items
The flame-resistant Army combat uniform and the improved physical fitness uniform can now be ordered by deployed troops through a Web-based program.


Recruiting Goals Met
All active-duty military components met or exceeded their recruiting goals in June, with the Marine Corps adding the highest percentage of its target to its ranks, Defense Department officials announced today.


Raven Drum Foundation Offer Free Tickets
To honor the military and provide a little fun and excitement over the summer months, the rock group Def Leppard and Raven Drum Foundation have started giving away 100 free concert tickets to military members and veterans with military ID for each show in the 2009 Def Leppard summer concert tour.


Army Limits Re-Enlistment Options
In an effort to slow the momentum of what has been an exceptionally productive year in recruiting and retention, the Army has limited re-enlistment options during the last three months of fiscal year 2009.

Wednesday July 01

Post-9/11 GI Bill Transfers to Spouses
It's official. The Defense Department signed off yesterday on policies and procedures servicemembers will use to transfer their unused Post-9/11 GI Bill benefits to their spouses or children, a Pentagon official said.


Obama Hails Iraqi City Withdrawal as 'Important Step'
President Barack Obama hailed the completed withdrawal of U.S. combat forces from Iraqi cities today as "an important step forward" and a testament to the commitment of American troops.


Expanded Homeowners Assistance Program
While the Base Realignment and Closure decisions of 2005 are causing upheaval for some families, help is available through the Department of Defense National Relocation Program, the Homeowners Assistance Program, and soon, the Expanded HAP, thanks to the American Recovery and Reinvestment Act.


How to Impress Your Drill Sergeants
Let's face it, basic training is tough. For the first time you will be dealing with Drill Sergeants who love to yell at you and hang on your every move. I made it through basic training hardly ever getting yelled at, here's how I did it:


Soldiers to Help Tiger Honor Troops During PGA Tournament
Tournament host Tiger Woods will honor wounded warriors on the first tee box during a patriotic salute to U.S. military personnel and their families to officially open the 2009 AT&T National PGA Tour event, July 1, at Congressional Country Club in Bethesda, Md.


Soldiers Can Find Housing Online
Soldiers looking for an easy way to find safe, reputable housing at their new duty station -- before they arrive -- can visit their local housing office and ask for information about the Automated Housing Referral Network.


Army Moves to Privatize On-Post Lodging
Soldiers in a temporary duty or permanent change of station status who need lodging aboard Army installations will begin to see improvements in those accommodations as the service moves to privatize lodging at 10 posts beginning Aug. 15.

Monday June 15

I.A.M. Strong Concert Tour
The 2009 Army Concert Tour, which includes artists Sugarland, Tim McGraw and Lynyrd Skynyrd, is sponsored by I.A.M. Strong, the Army's campaign to combat sexual harassment and sexual assaults by engaging all Soldiers to prevent inappropriate behavior before it occurs.


Families Drive Budget Request
The nation's top military officer told Congress yesterday the fiscal 2010 defense budget request puts money where it's needed: to recruit and retain the quality troops and their families who form the foundation of the all-volunteer force.


Foreclosure Protection for Military
President Barack Obama's latest efforts to look after home renters gives military members additional protection if the homes they rent are foreclosed.


Colbert Entertains Troops in Iraq
It is official - Stephen Colbert came, saw and conquered Iraq, claiming victory on day three of his six-day adventure to the Middle East.


The Top 5 Secret Tips for Basic Training
Many recruits aren't aware that they can learn secret tips before arriving at basic training to make boot camp much more enjoyable. I bring you the top 5 secret tips you should know before you arrive at boot camp.


Schools Help Veterans Pay for Education
The Department of Veterans Affairs (VA) announced today that it has entered into more than 700 agreements with institutions of higher learning across the nation to participate in the Post-9/11 GI Bill's "Yellow Ribbon Program."


Six Things to Consider Before Choosing an MOS
Of all the things that have to be considered prior to joining the Army (or any branch of service, for that matter), the most important is qualifying for, and choosing, a good job.

Monday June 01

Know About Your Drill Sergeants
Your Survival Guide to United States Army Basic Combat Training


2009 Military Clothing Allowance
Military Enlisted members are provided monetary allowances to pay for uniform replacement and maintenance.


Army Ten-Miler to Open 500 Spots
Army Ten-Miler officials announced that an additional 500 race entries will be offered to U.S. Armed Forces servicemembers through a special, online lottery held June 15 - 18.


Military Spouse Career Advancement Initiative
Career and training opportunities for military spouses just got better, as the Defense and Labor departments' career advancement demonstration project has been expanded to include all active-duty military spouses, along with four additional career fields.


High-Cost Schooling Accessible to Troops
Servicemembers and veterans who enroll in the new Post-9/11 GI Bill will be able to attend some of the country's most prestigious – and high-cost –universities, thanks to a new program that's gaining momentum in academic circles.


Lighter, More Lethal Weapons Systems
Two weapons in development are expected to be more precision-oriented, lighter and lethal: the laser-sighted XM-25 Counter Defilade Target Engagement System and the Lightweight .50-Caliber Machine Gun.


Pentagon Housing Assistance Program
Vice President Joe Biden today announced the Defense Department's plan to expand its housing assistance program with $555 million devoted to servicemembers forced to sell their homes at a loss due to the country's struggling housing market.

Friday May 15

USAA Releases 1st iPhone App
USAA Releases 1st iPhone App to Feature Banking, Insurance, and Investment Tools


Educational Assistance for Military Spouses

Military spouses in the Baden-Württemberg communities, and across the Army, who are interested in furthering their education, now have a new option to receive up to $6,000 in financial assistance.


2009 Army Concert Tour
The 2009 Army Concert Tour is coming to an installation near you - don't miss it!


Soldier Show Ready to Entertain Troops
The U.S. Army Soldier Show's theme this year is "Lights, Camera, Action!"


Proposed Recruiting Cuts
Despite an $800 million cut in funding for military recruiting and retention in the proposed fiscal 2010 defense budget, a senior Defense Department official expressed confidence in the department's ability to continue to attract and retain quality troops.


Army Budget Considers Soldiers, Families
The budget also includes provisions that will affect the wallets of Soldiers and Department of the Army civilians -- a pay increase of 2.9 percent for Soldiers and 2 percent for civilians, said Lt. Gen. Edgar E. Stanton III, military deputy for budget.


Avoid Getting Yelled at by Drill Sergeants
Let's face it, basic training is tough. For the first time you will have to wait for permission to eat or even go to the bathroom. Wouldn't it make life easier if you knew some tips on avoiding special attention from those mean Drill Sergeants?

Friday May 01

Post-9/11 GI Bill Transferability Rules
With the Department of Veterans Affairs ready to begin accepting sign-ups for the Post-9/11 GI Bill May 1, the Defense Department is working to get word out on its proposed policy regarding the bill's transferability provisions to help servicemembers decide if the new benefit is right for them.


Tiger to Treat Troops to July 4th Weekend
Tiger Woods vowed April 20 to dedicate his AT&T National PGA Tour event to the men and women of the United States Armed Forces for the third consecutive year.


New Program Provides Family Retreats
It's no secret that deployments put stress on a family, and the National Military Family Association has developed a new "Operation Purple" program at no cost to military families.


More Cash for Reservists Staying In
In a windfall for all deploying reservists, the Army Reserve's plan for replacing stop-loss includes offering up to $1,200 extra to each one of its soldiers headed to the war zone after Aug. 1.


Military Can't Escape Slow U.S. Economy
A PCSing Soldier can't sell his house and struggles with mortgage payments in addition to the costs of setting up a home at his new duty station. An Army spouse is a victim of job cuts and the sudden loss of income leaves the family unable to pay their bills. With the economy in a slump, scenarios like these are becoming more prevalent across the force, and service leaders are more than a little concerned about the dilemma.


Army Training Network
The Army Training Network is online with the mission of becoming the one-stop shop and information source for Army training.

Wednesday April 15

Nest Eggs A Must For Soldiers
Financial security at home can mean one less distraction from the mission downrange.


VA Expects Big Post-9/11 GI Bill Impact
All systems are on track for this summer's rollout of the new Post-9/11 GI Bill, which Veterans Affairs Secretary Eric K. Shinseki said he expects to have as monumental an impact as the original World War II-era GI Bill of Rights.


VA Budget Adds Mental-Health Service
The proposed Department of Veterans Affairs funding request will provide more post-traumatic stress disorder and traumatic brain injury services to combat veterans, as well as other mental-health care and services for wounded warriors, President Barack Obama said today.


Ceremony to Recognize Vets
One-hundred twenty-three American heroes from the Vietnam War era will be honored posthumously this month during the annual In Memory Day ceremony, according to Jan C. Scruggs, founder and president of the Vietnam Veterans Memorial Fund.


Honor Flight Tennessee Valley
Honor Flight Tennessee Valley is an organization dedicated to transporting our veterans to visit their memorials in Washington, D.C. These trips are free of charge to the veteran.


Henley-Putnam University Military Scholarship
Henley-Putnam University is pleased to announce the creation of the Henley-Putnam Strategic Security scholarship for current and former members of the military who are interested in working in the field of Strategic Security and who wish to pursue a degree in the area of Intelligence Management, Terrorism and Counterterrorism Studies, and the Management of Personal Protection.


Blue Ridge Vacation Cabins
The High Country of North Carolina is a popular destination for families, outdoor enthusiasts and retirees with a variety of activities throughout the year.

Wednesday April 01

GI Benefits Expanded
College is expensive, but if you are a veteran of active duty military service, then help is on the way.


Army Builds 'Strong Bonds' Among Couples
As one spouse tried to navigate the other across a room and through a minefield of foam toys, the games had begun at the Army's "Strong Bonds" marriage retreat near Baltimore.


Army 'Takes Care of its Own'
A widow looking for help did not know where to turn. Her husband, a retired Army veteran, had just passed away. While she wanted more than anything to provide him the dignified burial he surely deserved; she was strapped financially.


Brothers at War: Coming Soon to Theater
Producing the film "Brothers at War," has been a personal crusade for Jake Rademacher.


Thrift Savings Plan Provides Retirement
About 614,000 servicemembers are saving for retirement in the federal Thrift Savings Program, which was opened to military members in 2002, a senior Pentagon official said here today.


Department of Defense Stimulus Act Projects
Defense Department officials today announced 3,000 projects that the economic stimulus legislation signed last month will fund.


Sesame Street Helps Military Kids
Sesame Workshop continues to find unique and creative ways to reach out to the very youngest in military families, Deputy Defense Secretary William J. Lynn III said here today during a sneak preview of a new primetime Sesame program.

Monday March 16

Army Training Network Ready to Go Live
The Army Training Network goes online March 16 with the mission of becoming the one-stop shop and information source for Army training.


Warfighters' Forums: A New Era in Army Collaboration
Taking advantage of today's technological advances was one of the initiatives that led to the inception of the Army's Warfighters' Forums.


Steady and Ready - Vocational School
If you're close to finishing your tour of duty, and you're not sure if college or university is for you, consider applying your military education and experience to a vocation such as electrician, plumber, carpenter, construction worker or even computer network analyst.


Transforming VA to 21st-century Organization
President Barack Obama's fiscal 2010 budget proposal is necessary to transform the Department of Veterans Affairs into the 21st century organization he envisions, VA's top official said here yesterday.


The Hidden Stomach Muscle
Everyone can identify with the 6 pack abs look, but few enjoy doing sit-ups. With this article, I will teach you how to get your stomach flat with less sit-ups.


Overweight Youth Pose Recruitment Challenges
Fat is bad for your health. And as defense officials attest, it's also bad for recruiting -- and for national defense.


Spouses Become Financial Counselors
Through its investor education foundation, the Financial Industry Regulatory Authority, or FINRA, is helping military spouses become accredited as financial counselors.

Monday March 02

President's Pay Raise for Troops
President Barack Obama's fiscal 2010 budget proposal includes a 2.9 percent pay increase for U.S. servicemembers.


Military Jargon to Civilian Language
Figuring out how to translate your military skills to a civilian job is perhaps the biggest obstacle for people looking for a job who are leaving the Armed Forces.


The Most Feared Event at Basic Training
The gas chamber is probably the most mentally challenging exercise you will have to overcome at basic training.


DoD Schools Raise Age for Education
Young military children who thought the first day of school was imminent may not have to worry about reading, writing and arithmetic until next year because of a change in entrance age requirements.


Better Education Benefits on Horizon for Soldiers
The "Post-9/11 Veteran's Education Assistance Act Of 2008," sometimes called the "Post-9/11 G.I. Bill," paves the way for thousands of qualified Soldiers, Sailors, Airmen Marines and military veterans to get a complete four-year degree at no cost to themselves.

Sunday March 01

Documentary Depicts Commitment
On location in the Middle of Nowhere, Iraq, filmmaker Jake Rademacher focuses his lens on a unit of young reconnaissance troops with whom he's embedded.


Financial Planner Offers Tips for Tough Times
If financial hardships have Army families singing the blues, maybe some advice from certified financial planner June Walbert might change their tune.

Monday February 16

Electronic Warfare Offers New Jobs
A new career field makes room for 1,600 full-time electronic warfare professionals for the active-duty Army, the Army Reserve and the Army National Guard, a senior officer said yesterday during a Defense Department Bloggers Roundtable conference call.


The Upside of Online Universities
The Sloan Consortium, an online education research company, reported that 3 million plus students took at least one online course in the fall semester in 2005. Online education has become the norm.


Military Saves Week 2009
The Department of the Army has big plans to participate in the Military Saves Week, February 22 to March 1, 2009. Events are scheduled at Army facilities worldwide.


Retreat for Military Families
Whether it's sitting around a campfire roasting marshmallows in the winter or standing in the middle of a creek fishing during the summer, a Colorado troop-support group is promising a week-long retreat full of fun and relaxation for 80 deserving military families this year.


America's Army Game Sets Five Guinness World Records
The America's Army PC game, which lets players explore Soldiering, has been recognized with five records in the upcoming Guinness World Records 2009: Gamer's Edition.


Army Transforms NCO Corps
This year, the Army as a whole is recognizing the NCO Corps. "We want to enhance what we are doing for the NCOs, so we have initiatives that we'll bring on line this year that will enhance how we develop our noncommissioned officers and enable them to gain even more skills," Army Chief of Staff Gen. George W. Casey, Jr. told members of the Association of the United States Army in January.


New GI Bill Carries Different Eligibility, Benefits
A series of educational assistance programs administered by the Veterans Affairs Department, commonly called the GI Bill, have helped servicemembers pursue post-secondary learning for decades. Soon, another program will be added to the mix: The Post-9/11 Veterans Education Bill will be available to qualified individuals Aug. 1.

Tuesday February 10

Army Recruiting Remains on Track
Despite challenges in recruiting 17- to 24-year-olds, Army leaders said yesterday the service is on track to meet recruiting goals this year, and will not lower standards to do so.

Monday February 02

Making Your Tax Refund Work for You
When it comes to getting a tax refund, military families are at a distinct advantage — they often can file over the phone or online in a matter of minutes, and the Department of Defense gets paperwork done faster than many civilian companies, meaning military families can get their refunds sooner.


Military Spouses of the Year
Military Spouse magazine today announced the five military service branch winners for its 2009 Military Spouse of the Year award, presented by USAA.


Army to Double Money for Family Programs
The Army Family Action Plan kicked off its 25th anniversary conference with Secretary of the Army Pete Geren telling the 117 delegates that funding would double from $700 million to $1.4 billion for family programs in the coming year.


America's Army 3 Game to be Released
Six years after the U.S. Army revolutionized military action games with the launch of the free personal computer game America's Army, the Army has announced the upcoming release of America's Army 3.


Deployed Soldiers Get a 'Troop Cave'
"Kuwait" and "all the comforts of home" are phrases rarely uttered in the same sentence, but a "Man Caves" makeover at Camp Virginia, Kuwait, will show that sometimes the improbable can happen.


'Helping A Hero' Donates Homes to Soldiers
Army Spc. Sergio Trejo always dreamed of owning his own home. But after he was injured by a homemade bomb during his second tour of duty in Iraq, he said he felt his dream was out of reach.


Shaq Shares Hoops Clinic With Buckley Children
More than 265 children from Buckley Air Force Base had more than just a basketball clinic in common with a 7-foot-1-inch, 325-pound four-time National Basketball Association champion...

Thursday January 15

December Recruiting Goals Met
December was a recruiting success for all active-duty and reserve-component U.S. military services, which all met or exceeded their goals, according to a Defense Department news release issued today.


Military Experience Turns Into College Credits
The military taught you leadership, teamwork and specialized skills. But did you know that your military education can also give you a head start on college?


Gates Priorities in Next Administration
Defense Secretary Robert M. Gates is pleased by "great progress" in improving care and support for wounded warriors, but believes these developments "are still not good enough" and plans to implement more, Pentagon Press Secretary Geoff Morrell said.


Operation: Love ReUnited Foundation
Having a loved one go off to war or return from war can be very emotional for families. Many are so overwhelmed that taking pictures of these cherished milestones can be forgotten or just put to the side.


Disney Vacations More Affordable for Troops
A Disney vacation just got more affordable.


Purple Heart Criteria Exclude PTSD
After months of evaluating the criteria, Defense Department officials have decided against the notion of awarding the Purple Heart to military members who suffer from post-traumatic stress disorder.


US Army Relaxes Weight Rules
The waistlines of America's youth are expanding, shrinking the pool of those eligible to join the US military. But an Army program is giving overweight enlistees a second chance – and helping the military with its own expansion.

Thursday January 01

Army Releases New Training Manual
The Army released the new field manual FM 7-0, Training for Full Spectrum Operations, at the Training General Officer Steering Committee conference at Fort Leavenworth, Kan., Dec. 15.


Soldier Competes in Popular Game Show
A Soldier in the Army National Guard competed in a well-known game show on Christmas day for a prize of up to $1 million.


Troops Enjoy Money Management Benefits
Soldiers, sailors, airmen and Marines are relatively insulated from the financial disasters affecting many Americans, and increasingly are taking advantage of programs designed to promote what military leaders call "financial readiness," military financial counselors say.


Army Expands Military Funeral Honors
Starting early next year, the Army will allow full military funeral honors at Arlington National Cemetery in Virginia for all soldiers killed in action.


Military Housing Allowance Rates for 2009
Housing allowances for military members will go up an average of 6.9 percent in 2009, Defense Department officials announced today.


Military Experience to Civilian Career
Your active duty service commitment is coming to an end. And you are wondering what to do next? You'd like to take what you've learned in the military and apply it to the civilian world. You can directly apply your military skills if there are translatable jobs.

Monday December 15

Let's Say Thanks - Support Our Troops
Just because Thanksgiving is over, doesn't mean the thanking needs to stop. No matter if you're for the war or against it (is anyone really for it?) - no doubt our soldiers could use a bit of love.


Course in Financial Readiness
Soldiers here are getting an education in personal finance that commanders say goes a long way in promoting battle readiness.


November Recruiting Goals Met
All active-duty and reserve-component U.S. military services met or exceeded their November recruiting goals, according to a Defense Department news release issued today.


Scholarships Help Spouses Finish Education
Military spouses with an eye on professional certification or a post-secondary education may not have to foot the entire bill, thanks to a National Military Family Association scholarship program.


Pentagon Channel Becomes Hot iTunes Commodity
The Pentagon Channel, "The Grill Sergeants," is ranked as one of iTunes' top 25 videos of the year.


Military Recruits Non-citizen Workers
The Defense Department has launched a year-long pilot program to recruit about 1,000 non-U.S. citizen health care workers and language and cultural specialists for service in America's military, a senior DoD official said here today.


'Sentinels of Freedom' Scholarships
Thanks to a recommendation from the Army Wounded Warrior Program at Fort Riley, Kan., retired Army Sgt. Victor Thibeault of San Ramon, Calif., will study general education with the help of a "Sentinels of Freedom" scholarship that also benefits his family.

Monday December 01

Repairing Credit After I.D. Theft
When it comes to identity theft, most are concerned with protecting their finances. But you should also protect your credit report.


Military Spouse Celebrities Are Coming to Town
Lookout Fort Campbell...... Crooks & Henderson are coming to town December 4th and 5th, 2008 to present a Spouse Field Exercise™.


Suicide-Prevention 'Webinar'
As part of an effort to educate civilian and military health care providers about grief counseling, the Tragedy Assistance Program for Survivors, or TAPS, is planning a "webinar" featuring a leading expert in suicide prevention.


Conference Focuses on Wellness
Shifting the military culture as it pertains to mental health from an illness-based medical model to one that focuses on wellness and resilience was the focus of a three-day conference hosted here this week by the Defense Centers of Excellence for Psychological Health and Traumatic Brain Injury.


DOD Launches 'Wounded Warrior Diaries'
Defense Department officials today launched the "Wounded Warrior Diaries," a multimedia Web tribute in which American servicemembers wounded in combat share stories of their service, including their hard-won battles on the road to recovery and the ups and downs of life in the wake of injury.

Friday November 14

AKO Recognized as Information Standard
Army Knowledge Online/Defense Knowledge Online, having just achieved it's one-billionth user log-on at the end of September, received a third-place award for improving information delivery and saving the Department of Defense millions of dollars by providing a portal that will become the standard for all DOD agencies.


53% Tuition Discount For Active Duty
Kaplan University today announced the launch of its new Military Student Support Center and a suite of new services for military students—including a 53 percent tuition discount for active duty service members.


"Quit Tobacco -- Make Everyone Proud."
The Department of Defense and TRICARE are encouraging military service members and their families to take part in the annual Great American Smokeout on Nov. 20.


Use Military Training In The Border Patrol
As a returning veteran, you will find any number of opportunities and benefits available to you as part of the Border Patrol.


Leave Act Benefits Wounded Warriors
Recent changes to the Family and Medical Leave Act will extend the period of unpaid, job-protected leave that eligible family members can take to care for wounded warrior spouses, Labor Department officials said.


"Warrior Care Month"
Citing Warrior Care as both a top priority and a solemn obligation, Defense Secretary Robert M. Gates designated November as "Warrior Care Month" to communicate the Defense Department's commitment to quality care to the nation's servicemembers and their families.


Michael Jordan Teams Up with National Guard
Basketball legend and avid motorcyclist Michael Jordan is the latest high-profile celebrity to team up with the National Guard.

Saturday November 01

Tricare Reserve Benefit Permanent
Eligible families of activated National Guard and Reserve members will continue to save up to $300 in annual deductibles now that a Tricare "demonstration" program is a permanent benefit.


Financial 'Readiness Challenge'
Installation commanders from all military services and the Defense Department will begin conducting "Financial Readiness Challenge" events nationwide next week to help military families deal with the effects of today's economy.


Game Show Honors Servicemembers
Despite having an air show the next day to prepare for, Air Force Master Sgt. Robin Brooks decided to play the odds of becoming the "next contestant on 'The Price is Right,'" and it paid off.


Virtual Community for Military Families
SpouseBuzz, a support group that connects military spouses online, held its fifth live conference here over the weekend.


30th Anniversary of Integrating WACs
Thirty years ago, on Oct. 20, 1978, President Jimmy Carter signed Public Law 95-485 disbanding the Women's Army Corps as a separate corps within the United States Army following 36 years of dedicated service.

Wednesday October 15

Bush Signs Fiscal 2009 Defense Budget
President Bush signed the fiscal 2009 defense budget into law today, authorizing a $512 billion base to support military readiness, as well as $66 billion for operations in Iraq and Afghanistan.


Army Exceed Recruiting Goal for Year 2008
The Army announced Oct. 10 it exceeded its Fiscal Year 2008 goal by recruiting more than 169,500 men and women in all Army components.


Military Families Coordinated Care
The Defense Department, in conjunction with the military services and the Department of Veterans Affairs, has created a framework to help wounded, ill and injured servicemembers not only survive, but also thrive as they transition from military service back into their communities.


AbilityOne Program Provides Jobs
The Defense Department is a strong supporter of the federally managed AbilityOne program, which works with private and public groups to provide goods and services to the government and jobs for the blind and other people who have severe disabilities, including wounded veterans.


Soldier Olympians visit President Bush
Ten Soldiers from the U.S. Army World Class Athlete Program and U.S. Army Marksmanship Unit visited the White House Oct. 7.

Wednesday October 01

Help With Transition to Civilian Life
How do I file a Veterans Affairs claim? How do I get enrolled in the V.A. system and get an appointment? What's the difference between the TRICARE Reserve Select and TRICARE Prime health plans?


Change How Servicemembers Get Information
The Oct. 1 establishment of the Defense Media Activity will change the way the Defense Department gets news, entertainment and information to servicemembers and their families.


DoD Services Launch New 'e-Library'
Who goes to the library at 2 a.m.? Anyone can now, thanks to an initiative that makes Defense Department library materials available online.


Missing Troop's 'Puzzle'
Before any American recovery team sets foot on foreign soil in search of missing servicemembers' remains, historians at the Joint POW/MIA Accounting Command must painstakingly piece together the servicemembers' final moments in the hopes of pinpointing their location.


DoD Announces Upcoming Iraq Deployments
The Defense Department today announced replacement units scheduled to deploy next year to Iraq.

Monday September 15

What Financial Institution is Right for You?
For most families, choosing a banking institution can be a very involved process even in the best of economic times. But mix in the challenges of military life, tough economic conditions, and a lack of consumer trust in many different industries, and doing so can become a daunting challenge.


Flag Serves as Backdrop in Iraq
The flag of the United States of America is one of the most widely recognized symbols in the world - it is the symbol of freedom and democracy. And one flag in particular has a special meaning for the Soldiers of Multi-National Division - Baghdad's 2nd Brigade Combat Team, 25th Infantry Division.


State Farm Earns Award for Support
"Like a good neighbor, State Farm is there," is the insurance company's advertising slogan, but it doesn't apply only to the clients the company insures. It also reflects State Farm's posture toward the reserve-component servicemembers it employs.


Ad Campaign Features Kid Rock, Earnhardt
The National Guard has enlisted two superstars to attract new members and remind those already serving what the Guard is all about through a new nationwide theater advertising campaign that made its debut last week.

Thursday September 11

Servicemembers Employ Recession Buffers
Military members receive some buffers from hard times through benefits like housing and meal allowances, commissaries and a strong support network. But they feel the crunch of increasing prices like everyone else.

Monday September 01

Elmo and Friends Entertain, Educate Families
Sesame Workshop, the nonprofit organization behind the program "Sesame Street," and the United Service Organizations joined forces to bring "The Sesame Street Experience for Military Families" to 43 installations across the country.


Soldier Uses Opportunities
Army Spc. Noe Barrientos, from Corpus Christi, Texas, is a permanent resident who aspires to become a U.S. citizen by the end of the year, but he did not join the National Guard to become a naturalized citizen. Like many high school graduates, he initially enlisted, in part, for the college benefits available.


Beneficiaries Can Get Benefit News by E-mail
The Tricare military health system's 9.2 million beneficiaries now have an easy way to receive the latest newsletters and stay informed about changes in coverage, pharmacy updates and other news.


Soldier Exemplifies 'America's Heroes at Work'
After being medically retired from the Army last year as a result of mental wounds he suffered in Iraq, Michael Bradley faced a daunting challenge that would later prove pivotal in his recovery: holding down a job in the civilian world.


Financial Readiness Among Troops
The economic downturn that has hit many Americans appears to have had less impact on U.S. servicemembers, partly because of the nature of military service and partly due to the vast network of programs and services available to help them, defense officials said.

Friday August 15

'D-Lister' Proves Laughter is Best Medicine
As summer ends, so goes the summer TV season, which means many favorite shows will go into hibernation for the winter.


Travelers Can Claim Reimbursement for Fees
Servicemembers traveling for official business, including deployments, will continue to receive full reimbursement for reasonable, authorized excess baggage fees, defense officials said.


Troops Offered Work Experience
A California group is offering active-duty servicemembers the chance to secure a key component to finding a job before they reenter civilian life: experience.


Recommended Changes to Retirement
A panel looking at military compensation has recommended dramatic changes in the military retirement system.


Soldier Seeks, Finds Excitement in Army
When Pfc. Tommy Smith enlisted in the Army in 2006, he joined the infantry looking for excitement and adventure.

Friday August 01

The Decision, The Change, The Marine
Pfc. Craig Green had no intentions on joining the military when he accompanied a friend to a local armed forces recruiting office in his hometown of Bluffton, Ind., more than a year ago. But for some reason he did.


New GI Bill Provides Educational Benefits
The latest GI Bill considerably improves the opportunity for today's servicemembers to obtain their education, a senior Defense Department official said.


Group Makes Job Hunt Easier for Disabled Vets
The hunt for a fulfilling job can be frustrating, but disabled veterans have a new online tool available to help them tackle that task.


Rock Band Sevendust Performs for Troops
Modern-rock band Sevendust put on a performance like no other for servicemembers here July 12 at the final stop on their first United Service Organizations tour.


'Troops to Teachers'
About 60 servicemembers preparing to retire or separate from the military got the word loud and clear during a recent Transition Assistance Program workshop here: If Uncle Sam can't have you any more, the public school system would love to have you.

Tuesday July 15

Fisher House Dedicated at VA Medical Center
More than 400 guests attended a dedication ceremony for the 39th Fisher House recently built on the grounds of Hunter Holmes McGuire Veterans Affairs Medical Center, in Richmond, Va., one of the VA's four Level 1 polytrauma centers.


Travelers Gear Up for Travel Card Switch
For Defense Department travelers, the more things change, the more they stay the same when it comes to the travel charge cards switch coming in November.


Preparing Troops for Civilian Careers
About 60 service members gathered here today to begin five days of seminars and workshops to help them tap into experience and skills gained through the military as they transition to civilian careers.


AT&T Launches First Mobile Content Portfolio
We honor freedom in our yards and in our homes, on our cars and even in our wardrobe, and now AT&T is providing customers with a unique way to give tribute to those who have fought for our independence, just in time for the 4th of July holiday.


Blockbuster, USO Join Forces for Troops
Movies and games have always been popular among deployed troops, providing a break from the intense daily realities of their duties and a way to fill downtime while away from their loved ones.


Soldiers Give Reasons for Re-enlisting
As soldiers' enlistments near their end, they must decide whether they want to leave the service or stay on for another term. Some soldiers in Iraq who decide to stay in the Army face another choice: whether to re-enlist here or wait until they're back in the United States.

Tuesday July 01

National youth 'cyber' science fair
Sixteen teams of students from across the country converged on the nation's capital Monday to present a variety of science projects to a panel of judges in the Army-sponsored eCYBERMISSION competition.


Army Olympians Compete with Pedestrians
Army athletes hosted a fitness challenge Wednesday at the Times Square Recruiting Station, kicking off the road to the 2008 Summer Olympic Games in Beijing.


Army Recruiter Assistance Program
Active-duty enlisted Soldiers and future Soldiers in the Delayed Entry Program can now serve as assistant recruiters and earn extra money in their off-duty hours.


Hollywood Effects, Marine Training
The scene in Building 7 at Muscatatuck Urban Training Center was chilling.


Families Rack Up College Credits
While 3rd Infantry Division was serving its third deployment to Iraq within five years, its soldiers set records amassing college credits during precious downtime between missions.


Official Praises Education Benefits
A Defense Department spokesman today expressed satisfaction that a proposed GI Bill allowing servicemembers to transfer their education benefits to family members passed the first round of congressional voting.

Monday June 16

Congress Frees Up Military Pay Funds
The Defense Department will now be able to pay its troops and civilians through the end of next month, thanks to budgetary-related actions approved by Congress, a senior Pentagon spokesman told reporters here today.


Patriotic Hearts Care for Military Families
Servicemembers, veterans and their families going through problems related to deployments can get help from a California-based troop-support organization.


Services Meet or Exceed May Recruiting Goals
All the services met or exceeded their May active-duty recruiting goals and have exceeded their target recruiting numbers for this point in the fiscal year, Defense Department officials announced today.


Students Learn Tricks Of The Trade
Students from the Monroe Career and Technical Institute (MCTI) teamed up with depot employees to learn about different career opportunities available at Tobyhanna.


Vacation Memories Are Hard To Forget
My wife has a phrase she likes to use when we're going to a family function, a special occasion of any sort, and of course, when we go on vacation.


Troops Eager for GI Bill Revision
At every "all-hands" meeting he's had with troops from Zamboanga in the Philippines to Baghdad to Fort Bragg, N.C., the chairman of the Joint Chiefs of Staff gets questions about changes to the GI Bill.

Monday June 02

Season 2 of "Army Wives"
Season 2 of "Army Wives" Premieres Sunday, June 8 at 10 pm ET/PT!


Students Help DoD Fill Jobs
Web-based social-networking and video-sharing sites such as "MySpace" and "YouTube" may be the best place to turn to entice the nation's best and brightest young people to work for the Defense Department.


VA Secretary Focuses on Continuum of Care
The secretary of veterans affairs laid out his priorities and talked of transitioning the organization to meet the needs of veterans today as well as those of the next generation.


Home Buying for Service Members
Buying a home is a big decision. So is choosing how to pay for it.


Organization Honors Fallen Heroes' Children
When Marine Sgt. Aaron N. Cepeda Sr. lost his life in combat in Iraq on May 7, 2005, his family also lost a son, husband and father.

Thursday May 15

Preparing for Financial Emergencies
One of the most important steps for financial independence is being prepared for unexpected bills. And the best way to do that is to create an Emergency Savings Account (ESA). This is important because it prevents you from having to finance car repairs, a trip home to see family, or other expenses.


Got it Covered?
Be ready for anything. Expect the unexpected. Those phrases may sound like lessons from basic training, but they apply just as well to property insurance coverage. And at least one recent study shows that Americans aren't as prepared as they should be to prevent a financial disaster.


Children's Book Explains Why Mom Deploys
A new children's book, written by a former Soldier and single mother, helps to explain why mom deployed and how to cope with the emotions associated with her departure


Heroism and Athletics Converge
The 28th National Veterans Wheelchair Games, scheduled to take place July 25–29 in Omaha, Neb., will attract more than 500 veterans with disabilities. It has become the largest annual wheelchair sports competition in the world. Veterans from conflicts in Afghanistan and Iraq will again join their fellow veterans in 17 competitive events being offered in Omaha.


Graduates Need to Build Experience
Newly commissioned second lieutenants and ensigns need to use their knowledge from college, but also must be willing to pick up more knowledge through practical experience, the vice chairman of the Joint Chiefs of Staff said here yesterday.


April 2008 Recruiting Goals
All military services met or exceeded their recruiting goals for April, with the Marine Corps recruiting 142 percent of its goal, Pentagon spokesman Bryan Whitman said here today.


Wounded Veterans Get Vacation
Two former Marines have set out to provide wounded veterans with a week's worth of rest and relaxation in luxury homes.

Thursday May 01

Country Music Star Shines On Troops
Country music star Toby Keith visited and performed for troops on Victory Base Complex April 25 and 26 as part of his sixth United Service Organizations tour.


Scholarship Application Deadline Extended
Operation Homefront has extended the deadline for those interested in one of 25 American Patriot Freedom Scholarships the group offers to children of military families for tuition and other education-related expenses.


First Recruits Enlist Using Biometric Technology
When 20 recruits gathered yesterday at the Baltimore Military Entrance Processing Station to sign their enlistment contracts, none needed a pen.


Organization Hires Heroes
Returning from combat in Iraq or Afghanistan with a disability certainly brings with it a number of challenges, but for one soldier, a great aid to his successful recovery was the easy transition he made into the civilian job market.


Enlistment Waiver Policy Works Well
Though the Defense Department is granting waivers to allow some recruits to enlist who it once may have rejected, the system is working well, a senior Pentagon official said today.


Veterans Benefits Enhancement Act
Comprehensive bill expands support for disabled veterans, job training, and provides historic Filipino veterans equity.

Tuesday April 15

How to Get on a Drill Sergeants Good Side
Is it possible to never get yelled at or punished by a drill sergeant in basic training? The simple answer to that question would be "no." However, there are ways to minimize that "special attention" drill sergeants like to give recruits.


Retroactive Retirement Payment
Service members with retirement dates on or after January 1, 2008, may receive a retroactive payment based on the 2008 National Defense Authorization Act (NDAA).


San Francisco USO
As the sun began setting over the city here April 11, retired Air Force Col. Ray Slifka was on duty at the San Francisco International Airport United Service Organizations lounge, providing hospitality and assistance to travel-weary military travelers and their families transiting through the airport.


Army Wives Go on Air with Talk Radio
Every Monday night at 8 p.m. a group of Army wives gathers to hear news, relationship advice, parenting tips and deployment support, but this isn't your traditional readiness or support group.


Gates Foresees Fewer Troops in 2009
Defense Secretary Robert M. Gates said today he is confident there will be fewer U.S. troops in Iraq in 2009, but added that the drawdown process has gone somewhat more slowly than he thought it would last year.


Compact on Education Transition
Kansas Gov. Kathleen Sebelius and Kentucky Gov. Steve Beshear signed legislation into law this week that will ease the transition for military children as their servicemember parents move from assignment to assignment during their careers.

Tuesday April 01

Center Brings Lessons from Field to Soldiers
One Soldier's insight into how things can be done better in the combat zone today can save time or even the life of another Soldier in the combat zone tomorrow.


25th Annual Soldier Show
The cast and crew of the U.S. Army Soldier Show will emphasize their working motto of "entertainment for the Soldier, by the Soldier" in a simulated deployed setting to celebrate the show's 25th anniversary, which will open April 11 at Belvor's Wallace Theater.


Combat Pay Counts Toward Economic Stimulus
Military personnel serving in combat zones are eligible for an economic stimulus payment, an Internal Revenue Service spokesman said today during an "America Supports You Live" interview on BlogTalkRadio.com.


Mental Health Providers Give Back
Help for servicemembers coping with the effects of wartime service is just a phone call or a mouse click away, thanks to a nationwide network of mental health professionals.


More Combat Vets to Bolster Recruiting
The Army announced Monday that a test of the Chief of Staff of the Army Special Recruiter Assistance Program will begin in May.


All Casualties Keenly Felt, Pentagon Spokesman Says
The U.S. military passed a sad milestone today: the 4,000th U.S. death in operations in Iraq.

Saturday March 15

How to Earn More Money in Basic Training
Many recruits aren't aware that if they do a good job in basic training they can earn awards and get promoted faster. Of course, getting promoted means more money.


'Why We Serve' Speakers to Substitute Teach
Scores of students at the University of Cincinnati will be surprised today to find their history courses taught by servicemembers in uniform instead of their familiar tweed coat-clad professor.


Jessica Simpson Joins the Army
Singer-actress Jessica Simpson may not be a major movie star yet, but troops in Kuwait flocked to see her latest film, "Major Movie Star," when a free screening was offered Monday at Camp Buehring.


Army Logisticians Encouraged To Attend Workshop
The Army Materiel Command's Logistics Support Activity will host its annual worldwide logistics training workshop April 21-25 at the Sparkman Center here. This year's workshop will provide presentations, hands-on training, workshops and exhibits on LOGSA products and services.


General Visits Times Square Recruiting Station
Lt. Gen. William B. Caldwell IV, commanding general of the Combined Arms Center, visited the Times Square military recruiting station Monday to talk to recruiters and survey the repairs made after an explosion damaged the station last Thursday.


Army Educator Helping African Students
Deployed to Africa, in a sliver of a country between Somalia and Ethiopia, an education counselor from Camp Darby, Italy, is assisting students beyond the fence perimeter.

Saturday March 01

USAA Offers Financial Webinar
With personal debt on the rise as Americans owe nearly $2.5 trillion, USAA, a Fortune 200 financial services company serving members of the military and their families, aims to help military spouses and their households eliminate unnecessary fiscal obligations with its first-ever live, interactive, online webinar, "Wiping Out Debt – Your 2008 Action Plan."


Disabled Veterans Fight For Compensation
They call themselves the '5301 Club'. All 28 members of this exclusive online group are disabled veterans whom incurred life-altering injuries or illnesses during their military service. They have one other thing in common; they are all fighting to protect their earned VA disability compensation from being used as a 'divisible asset' in a divorce.


U.S. Army's eCYBERMISSION Program
Setting a new record for participation, 11,533 students representing all 50 states and four U.S. territories have registered for the U.S. Army's 2007-2008 eCYBERMISSION competition.


Army Remains Strong, But Stretched
The U.S. Army remains ready to engage and defeat America's enemies despite experiencing strain after seven years of wartime deployments, the Army's top civilian and military leaders told a Senate panel here today.


First 'Active First' Soldier Graduates
Pvt. Raymond Loree has become the first Army National Guard Soldier to graduate directly into the active Army's ranks through a new program called Active First.

Friday February 15

'Advantage Fund' Recruiting Incentives
The Army has begun a pilot program in five cities offering qualified recruits a down payment for home ownership or seed money to start their own business.


Budget Request Funds More Soldiers
The request includes funding for an across-the-board pay raise of 3.4 percent and money to increase the service's end strength by 43,000 Soldiers.


Scholarship Opportunity
Homefront America, a troop-support organization based in California, recently announced it will, for the third year, award 25 scholarships in May to benefit military children.


Garage Band Playoff!
USAA recently launched its second annual Garage Band Playoff contest, a nationwide competition that invites amateur rock bands to upload their original music to www.GarageBandPlayoff.com for a chance to win $1,000 to help jump-start their career.


Free Tax-Filing Services
Rather than paying a tax specialist, servicemembers and their families can obtain free assistance to prepare and file their annual tax returns through a special military program, a Defense Department tax advisor said here today.


Be Prepared for Basic Training
Preparation is everything in basic training. If you prepare properly, basic training could be a breeze. If you don't prepare at all, you will be counting the minutes until it's over.


Dog Eats Military Records
Teachers have heard it innumerable times from children who decided to play outside instead of knuckling down, but now it was a grown man lamenting the actions of his "best friend."

Friday February 01

Troops Get Retroactive Pay
Active duty troops will receive retroactive earnings next month, followed weeks later by a supplemental payday for non-active personnel, a Pentagon official said today.

Wednesday January 30

Suze Orman Presents Finance Course
Suze Orman delivered a high-energy crash course in personal finance Jan. 11 at Fort Dix's Timmermann Center.


ANAD co-op program
Since 2001, Anniston Army Depot and the Alabama Department of Education have combined efforts to support the ANAD Career Academy.


Earnhardt Drives Guard Cars
As he drives its sponsored race cars at NASCAR's top auto racing competitions this year, Dale Earnhardt Jr. hopes to learn more about the National Guard.


Calendar Supports Troops
Your new gym membership has yet to be used and that clutter you resolved to organize still needs tackling, but your resolution to help others this year still has hope.


Army Reserve Baghdad Re-enlistment
A mass re-enlistment for 100 Reserve Soldiers at Camp Victory Jan. 18 kicked off the U.S. Army Reserve's year-long 100th birthday celebration.


Army Game Saves Lives
A longtime player of the game "America's Army" became a first responder following a car accident in November when he employed the life-saving techniques he learned by playing the video game.

Monday January 14

New Iraq Strategy Showing Successes
President Bush's new strategy for Iraq, announced one year ago during a televised speech to the nation, is accomplishing many of its goals and laying important groundwork for initiatives yet to be fulfilled, military and defense officials agree.


No. 8 Army Team Prepares for 2008 Season
NASCAR driver Mark Martin and the No. 8 U.S. Army Team spent Jan. 7 getting acquainted, while testing the high-banked 2.5-mile tri-oval of Daytona International Speedway.


Financial Help for Military Families
Troops on extended deployments can rest easier knowing that if their family experiences an unexpected financial emergency, help is available.


Partnership for Youth Success program
The Army's Partnership for Youth Success program, which began in 2000, has now promised more than 53,000 Soldiers from the Army and Army Reserve a leg up on civilian employment.


'Active First' Shows Promise
Army Secretary Pete Geren is crediting a new National Guard program that brings new recruits into the active Army with a commitment to finish up their tours in the Guard or Reserve as an example of innovative initiatives that are helping maintain the force.


Battlemind Prepares Soldiers
Today, every Soldier headed to Iraq and Afghanistan receives Battlemind training, but few know the science behind it.

Monday December 31

Soldiers at All-American Bowl
More than 90 "Soldier heroes" will be paired with America's leading high-school athletes in the week of festivities leading up the Army All-American Bowl in San Antonio, Jan. 5.


Re-enlisted Soldiers
Army Chief of Staff Gen. George W. Casey Jr. re-enlisted 267 Soldiers in a ceremony at Camp Victory's Al Faw Palace Dec. 19.


No Furloughs for Christmas
The $70 billion in emergency funds approved this week by Congress has sidestepped the need for the Army to send out furlough notices for now, but that money won't last long, the Pentagon's top official said today.


Scholarships for Spouses
Military spouses now have a larger scholarship pool to draw from, thanks to a new partnership between the National Military Family Association and the Fisher House Foundation.


Army to Tap Troops
The Army's assignments branch is reaching out to Soldiers who have not deployed to combat in an effort to take some of the strain off of those who have deployed more than once.


New Logistics Branch
The Army plans to develop a new corps of multifunctional logisticians with creation of the new logistics branch.


Immediate Combat Injury Pay
When Soldiers are evacuated from a combat zone due to a combat-related injury, they no longer need to wait 30 days to begin receiving their Combat-Related Injury Rehabilitation Pay.

Saturday December 15

Family Engagement Kit
In the last five years, 186 Soldiers died within a year of returning from deployments. Of the 186 fatalities, 145 involved privately owned vehicles during off-duty hours.


Higher Housing Allowance
Most servicemembers receiving a housing allowance will see more in their 2008 paychecks.


'Trees for Troops'
Volunteers from the New York National Guard's 42nd Infantry (Rainbow) Division spread holiday cheer by helping load donated Christmas trees bound for overseas troops and Army Families stationed across the United States.


Wrestling 'Superstars' Visit Troops
While the holidays may just be another day in a war zone, this year World Wrestling Entertainment gave a special Christmas gift to the troops by spending three days with them.


America's Army Goes Xbox, Now PC
When the "America's Army: True Soldiers" game hit the streets in mid November, recruiters across the country held launch events at local stores to capitalize on the excitement of America's Army coming to the Xbox 360. Now the game's creators are hoping to stir up excitement in the PC gaming world.


Free Music Downloads
Recognizing that music has always been integral to morale, more than a dozen of the biggest names in country, rock, pop and R&B are teaming up with the Army & Air Force Exchange Service and America Supports You to deliver a special gift to troops this holiday season.


Preparing for Funding Shortfall
The Army announced Nov. 28 that it has taken initial steps to plan for reduced operations at all Army bases while the congressional review continues on funding for operations in Afghanistan, Iraq, and requirements associated with the Global War on Terror.


New NTC Urban Training Site
Soldiers will soon begin training on what Fort Irwin officials say will one day be the largest Military Operations in Urban Terrain site in the Army inventory.


Pearl Harbor Survivor Remembers
It's been 66 years, and tears still well up in the eyes of Robert Bishop when he thinks of that day.

Tuesday December 04

Special Teams Carry Navy Past Army
Reggie Campbell returned a kickoff for a 98-yard touchdown and rushed for another score to spark Navy to a 38-3 victory over Army, Saturday afternoon in front of 71,610 fans at M&T Bank Stadium.

Saturday December 01

Army Funds Crunch
Installation operations and quality of life programs for soldiers and their families would be affected worldwide if the Army doesn't receive additional funding from Congress soon, a senior officer said here today.


The 108th Army-Navy Game
The 108th Army-Navy Game will be played Saturday at M&T Bank Stadium in Baltimore and CBS will broadcast the game nationally beginning at noon.


Army Family Team Building
If you're wondering what your spouses mean when they say the ETA for dinner will be NLT 1900 hours, the Army Family Team Building program has just the class for you.


Budgeting for Baby
Even busy military families need to take time out to plan their finances when anticipating a new family member.


Boot Camp Quiz
Are You Ready?


Scholarships for Military Children Program
Applications for the Defense Commissary Agency's 2008 Scholarships for Military Children Program are available now in commissaries worldwide.

Thursday November 15

Army Green, Army Strong
On Nov. 15, the Army will join with the rest of the country to observe and celebrate America Recycles Day, a nationally recognized day encouraging Americans to recycle and buy recycled products.


The Financial Institution Of the Future
Not banking online? You're throwing time and money out the window.


Master Gunner Course
The Master Gunner Course held at Fort Knox's Armor School is a two phased course that prepares mid-grade NCOs to serve as the gunnery and technical advisors for commanders at the company level and above.


Army Shifts to Web-Based Promo Updates
The Army announced the first dramatic change to the active-duty enlisted promotions system since the Vietnam era.


Veterans' Adventure Trip
Five days after their adventure began, seven injured veterans packed up with the satisfaction of knowing they'd done what they set out to do: conquer sand, sea and the cloud of mosquitoes that seemed to follow them everywhere.


Eating Well at Basic Training
Some great tips to prepare for basic training and get the most out of your meals once you're there

Thursday November 01

Pick A Card
Receiving dozens of "pre-approved" credit card offers in the mail can be flattering. But they may leave you wondering which offers are the real deal and which are just smoke and mirrors.


U.S. Army All-American Bowl
High school senior football players await their fate as the Army travels the nation to name 84 players for its All-American Bowl, an all-star game held January 5, in San Antonio, Texas.


Supply Specialists in Short Supply
The growing demand of Soldiers trained in unit supply and automated logistics is translating into the U.S. Army Quartermaster Center and School at Fort Lee, Va., training more specialists than their annual requirement.


TRICARE: Don't Get Stuck With the Bill
When a TRICARE beneficiary needs hospital care, he or she can usually be confident that the benefit will cover everything involved with inpatient care. Doctors may order lab tests, X-rays, or medication. And afterwards, they may call for Magnetic Resonance Imaging (MRI). But wait, too much confidence could mean that the patient ends up paying for that MRI. Why?


Holiday Deadlines for Troop Support
While the holidays may still seem far away, Americans hoping to show their support to deployed troops must be aware of some rapidly approaching deadlines set by the Military Postal Service Agency: mail going parcel post must be sent by Nov. 14 while first-class mail must be sent by Dec. 10 to arrive by Dec. 25.


How to Deal with Drill Sergeants
Drill sergeants will undoubtedly treat you like you have never been treated before. They clearly don't want to be your friend, they don't want to make you feel warm and fuzzy and they certainly don't want you to feel like you're at home. There are however, ways to deal with drill sergeants that won't drive you crazy.

Wednesday October 31

The Origins of Veterans Day
In 1921, an unknown World War I American soldier was buried in Arlington National Cemetery. This site, on a hillside overlooking the Potomac River and the city of Washington, D.C., became the focal point of reverence for America's veterans.


$60,000 in Bonuses for 'Active First'
A new Army program dubbed "Active First" promises up to $60,000 in bonuses to recruits who opt for 30 to 48 months of active duty then transfer to the National Guard.

Monday October 15

E-mail Phishing Targeting DoD Bank
Customers of the DoD Community Bank and other institutions providing financial services to Department of Defense military and civilian personnel continue to be targeted with e-mail phishing campaigns which attempt to gather personal and account information.


Passport Flexibility Ended September 30th
U.S. citizens flying to Canada, Mexico, Bermuda, or the Caribbean will need to present a passport (the temporary accommodation, which allowed citizens to present a photo ID and proof of passport application, ended on September 30, 2007).


Microsoft Lends Support to Troops
As part of its continued commitment to honoring service members and their families, software giant Microsoft Corp. announced today that it has become a corporate supporter of the Defense Department's America Supports You program.


GI Bill Rates Increase for 2008
GI Bill Benefits have increased, and as of October 1, 2007, full-time students with GI Bill benefits may now be eligible for over $1101 per month to cover the cost of their education.


Army Celebrates Recruiting Success
Vice Chief of Staff of the Army Gen. Richard A. Cody swore in six new recruits and re-enlisted six Soldiers in a ceremony today celebrating success in recruiting and retention for fiscal year 2007.


OPSEC: Keeping the Military Safe
OPSEC, also known as Operational Security, is the principle that we, as Army wives and Army family members, should all abide by when talking about our soldiers.


Group Gears Up to Send Holiday Goodies
In California, a modern-day Mrs. Claus is rallying her helpers once again to fill care packages with goodies for troops serving far from home during the upcoming holiday season.

Monday October 01

TRICARE Reserve Select Program Changes
All current TRICARE Reserve Select members must re-enroll NOW to maintain coverage after September 30, 2007. Visit this link to learn more.


America Supports You: Foundation Gives Back to Military Families
Military families have a new partner in their efforts to understand and cope with having a loved one in a battle zone.


Career Jump-start For College Students
Imagine starting your career before graduating college and having the opportunity of paid real- world experience in your desired career field with only a few college credits.


Virtual FRG Keeps Soldiers, Families In Touch
As 1st Armored Division Soldiers deploy to Iraq for the next 15 months, they leave knowing there are a host of resources in place to keep them connected to families here and stateside.


Wives to Run Army Ten-Miler
For the last few months, 37 wives from Georgia's Fort Stewart and Hunter Army Airfield have been training to run the 23rd annual Army Ten-Miler next month.


Predatory Lending Regulations
Starting October 1, 2007, a new federal regulation prohibits creditors making payday loans, vehicle title loans and tax refund anticipation loans to active duty Service members and their dependents with annual percentage rates over 36 percent.


Pentagon Channel Fired Up for 'Grill Sergeants'
Cooking talents of some of the U.S. military's top chefs will be on the front burner of a new Pentagon Channel lifestyle program, "The Grill Sergeants."


ACS: Building the Army Team One Family at a Time
No one - Soldier, Family member or civilian employee - joins the Army community knowing everything there is to recognize about the military.

Monday September 17

Tuition Assistance for Soldiers
The Tuition Assistance (TA) program provides financial assistance for voluntary off-duty education programs in support of a Soldier's professional and personal self-development goals. All Active Duty Soldiers (officers, warrant officers, enlisted) are authorized to participate in the TA program through the GoArmyEd portal (subject to qualifying criteria).


Avoiding the Scam
Professional scam artists know how to get around the rules, but these guidelines can help military families find someone reputable.

Saturday September 15

Economic Task Force Works to Move Iraq 'From Front Pages to Business Pages'
A task force designed to bolster Iraq's industry has made "measurable progress," placing scores of Iraqi workers in sustainable jobs since the program's June 2006 inception, the deputy secretary of defense said today.


Military Advanced Training Center Opens at WRAMC
Walter Reed Army Medical Center's new Military Advanced Training Center opened its doors today to offer rehabilitating Soldiers the latest in cutting edge equipment to help with their recovery.


New Initiatives to Reach Recruiting Goals
The Army's new "quick-ship" bonus program is showing success in getting prospective recruits to enlist and is expected to help the Army make its end-of-year recruiting goal, the Army's recruiting chief told Pentagon reporters today.


Hire a Hero Program
Although much of the stress associated with a National Guard deployment concludes upon returning home, a new concern can surface for Soldiers and Airmen who return with no job waiting.


9/11 Survivor's Story of Hope
Minutes after terrorists slammed a hijacked commercial airliner into the Pentagon six years ago, Army Lt. Col. Brian Birdwell thought he was going to die.


Soldiers Enjoy The Beyoncé Experience
This was the second of two concerts during which the singer took time to thank Soldiers for their service at her performances on her world tour, The Beyoncé Experience.


Hispanic Women's Magazine Honors Latina Servicemembers
Six military women of Hispanic descent were honored for their service to the nation at Latina Style Magazine's 4th annual awards luncheon held here last Thursday.


Sept. 11 Memorial Ceremony in Afghanistan
At 5:16 p.m., the only sounds that could be heard here were the distant drone of helicopter rotors and the flap of flags in the wind.


Why We Serve: Sailor Trades Sea for Sand
While working as a nuclear repair mechanic for the Navy, Caleb Duke traded sea for sand when he volunteered to take on an Army position that took him to Afghanistan.

Friday August 31

Army Football Military Appreciation Day
The Army Athletic Association will kick off the football season with Military Appreciation Day during West Point's Sept. 8 contest against Rhode Island at historic Michie Stadium.


Become a Special Agent, Get $20K
A $20,000 lump-sum Critical Skills Accession Bonus is being offered to active-duty enlisted Soldiers who complete the Criminal Investigation Command Special Agent Warrant Officer Basic Course by Sept. 30, 2008.


'Operation Education' in Idaho
Between physical and fiscal challenges, severely injured servicemembers and spouses who don't hold college degrees may find earning one a bit daunting. The University of Idaho is working to change that.


Army Takes On Payday Loans
Everyone's heard the familiar radio spots cajoling people to take out a payday loan, which is paid back when your paycheck arrives. It sounds easy enough.


The Importance of Flood Insurance
Record flooding in Ohio last week was a startling realization to many military personnel of the threat floods pose to homeowners at anytime, anywhere.


Soldiers Earn Stars for Bravery in Iraq
At the 230th Navy Armory in Millington, Tennesee on Saturday, August 25, 2007, David Tiedeman an Inactive National Reservist from Colorado and Bob Betterton of Memphis Tennessee received respectively a Silver Star and a Bronze Star with Valor for "gallantry in action against an enemy of the United States."

Wednesday August 15

$10K Long Drive Championship
Golfers are driving for dough at more than two dozen Army installations during the 2007 Military Long Drive Championships presented by Cadbury Schweppes. One big hitter will walk off with $10,000 and bragging rights as the 2007 Military Long-Driver.


Credit Score Secrets
One mistake can make a good credit score – poof – disappear. But it's not hocus-pocus. We reveal how the system works sure your score stays stellar.


Reserve Educational Assistance Program
Benefits for Guard and Reserve members ordered to active service in support of contingency operations and certain other operations.


$20,000 Bonus For Quick Enlist
The U.S. Army's Recruiting Command announced recently a $20,000 "quick-ship" bonus for aspiring recruits. The bonus applies to new recruits with no prior military service who enlist for at least two years active duty in America's Army. They must agree to report to basic training within 30 days of enlistment. The program ends Sept. 30.


TDY Policy Changes
The Army is putting the "temporary" back into Temporary Change of Station, or TCS. TCS is the status of Soldiers who are deployed away from their home stations to support a contingency operation.

Wednesday August 01

Insurance: Fact or Fiction
Whether at home or deployed, you and your family need home and auto insurance. The Army provides medical insurance, but they do not cover your home and automobiles, should anything happen to them.


Camera Minimizes Danger in Iraq
A new surveillance system that minimizes Soldiers' exposure to harm while providing continual observation in operating areas has been fielded in Iraq after just three weeks of design and manufacturing.


UFC Stars Train With Troops
Four Ultimate Fighting Championship stars concluded a four-day visit to Soldiers here this week at Camp Vance.


Hire a Hero
An online nonprofit group is helping servicemembers preparing to transition to the civilian work world connect with solid job opportunities.


'Sesame Street' Deployment Show Emmy?
A television special that looks closely at challenges military families face when a parent is deployed has been nominated for an Emmy Award for Outstanding Children's Program.


CSA Recognizes Recruiting Missions Met
Army Chief of Staff Gen. George W. Casey today visited Mechanicsburg, Pa., recruiters, who met their yearly recruiting mission just six months into the recruiting year.


Pigeon Forge Salutes Military
America's military personnel and civilian first-responders will get a community-wide salute throughout August in the Great Smoky Mountains resort town of Pigeon Forge with an event called Celebrate Freedom!

Monday July 16

Healthy Parenting Initiative
The Healthy Parenting Initiative represents a collaborative effort between DoD and the U.S. Department of Agriculture's Cooperative State Research, Education, and Extension Service to create a number of military specific resources for both parents and professionals working with military parents and their children.


Armed Forces Vacation Club
The Armed Forces Vacation Club (AFVC) is a "Space Available" program that offers Department of Defense affiliated personnel the opportunity to take affordable condominium vacations at resorts around the world for only $249.


Army Child and Youth School Transition
Army Child and Youth School Transition Services consists of a variety of programs and initiatives that provide strategies and resources for garrisons, school districts, parents/guardians to face the changes associated with transitioning from one school to another in support of the Army's mission.


Saving For a First Home
Homeownership has long been a sought-after status among military families, and no matter where you are in life, saving for a first home can seem like an impossible feat.


Army Recruiting Numbers Show Promise
The Army fell short of its active-duty recruiting goal for June, but officials noted today that the Army is still ahead of its year-to-date goal and is expected to make its year-end goal.

Monday July 02

Keys to Confident Car-Buying
Nearly 17 million Americans will purchase a new vehicle this year. Savvy car-buyers should take the proper steps to find, finance, and insure their new car and protect their financial well-being before making such a major commitment.


'Great Getaways Sweepstakes'
Authorized Morale, Welfare and Recreation patrons have a chance to win an all-inclusive "Great Getaways" vacation package for two at any of the four Armed Forces Recreation Centers.


Management Certificate for Military Spouses
A new college-level certificate program in office management, created specifically for military spouses, is now exclusively available through Andrew Jackson University.


"My Daddy is a Hero"
It is sad to say, but sometimes military children can often be overlooked. How much do they actually understand about their parents' overseas deployment?


America's Army Fifth Anniversary
July 4 marks the fifth anniversary of the launch of America's Army, the Army's computer game and one of the top-ten online games.

Friday June 15

Your Soldier, Your Army: A Parents' Guide
Army wife and mother Vicki Cody has written a 64-page book to help parents of soldiers have a better understanding of life in the military.


The U.S. Army Celebrates 232 Years of Service

Since its birth on 14 June 1775—over a year before the Declaration of Independence—the United States Army has played a vital role in the growth and development of our Nation. Soldiers have fought more than 10 wars, from the American Revolution through the Cold War, the Gulf War, to the current War on Terrorism. This 232nd Birthday is a recognition of The Army's history, traditions, and service to the Nation, a Call To Duty, 232 Years of Service to Our Nation.

Thursday June 14

Army Falls Short of May Recruitment Goals
The Department of Defense announced today its recruiting and retention statistics for the active and reserve components for the month of May.


Troops to Teachers Program
Troops to Teachers (TTT) was established in 1994 as a Department of Defense program. The National Defense Authorization Act for FY 2000 transferred the responsibility for program oversight and funding to the U.S. Department of Education but continued operation by the Department of Defense. The No Child Left Behind Act of 2001 provides for the continuation of the TTT Program. TTT is managed by the Defense Activity for Non-Traditional Education Support (DANTES), Pensacola, Florida.

Friday June 01

Army.com Chat and Instant Messenger Go Live!
Army.com's new Chat and Instant Messenger are now live. Join today and create a Profile, invite friends and family, and enjoy live Chat, file sharing, photos, and more!


New Scam Targets Military Spouses
The American Red Cross is warning military spouses about a new identity-theft scam that targets family members of deployed troops.


Famecast Looks for Military Stars
When it comes time to lock and load, roll out and do their duty as America's first line of defense, we all know that the scores of brave soldiers and officers in the U.S. military have talent to spare. But, amid the "shock and awe" of ongoing warfare, the rest of us might lose sight of the art that these gifted individuals are really capable of creating.

Thursday May 31

New Army Enlistment Incentives
Army offering more than $50,000 in incentives for 2-year enlistment, raising maximum bonus for 3-year enlistment to $25,000.

Wednesday May 23

Online Scholarships for Military Spouses
Andrew Jackson University, an accredited university whose courses are accessible online, announced that it is offering partial scholarships to spouses of serving military personnel.

Wednesday May 16

"Sustained U.S. Presence Critical"
Despite a desire for U.S. forces to ultimately leave Iraq, Iraqi leaders recognize the need for international support until their military is capable of operating independently, the Iraqi government's official spokesman said today."The fight is beyond the capacity of the Iraqi troops," Ali Aldabbagh told "bloggers" and online journalists during a conference call today.


Military Money Magazine
Created as part of the U.S. Department of Defense's "Financial Readiness Campaign" with the support of the Office of the Under Secretary of Defense for Military Community and Family Policy, Military Money magazine reaches an estimated 500,000 readers each quarter through distribution at military bases around the world. Additionally, "Military Money Minute" radio broadcasts are heard daily on American Forces Radio Network and the U.S. Army's Soldiers Radio and Television Network.


Transfer GI Bill Benefits to Spouses Program
The transferability of Montgomery GI Bill (MGIB) benefits to spouses is a retention incentive used by the Army to target Soldiers with at least six years of service who reenlist for a minimum of four years. Education benefits are a key component of the incentive package used by the Army to attract and retain quality Soldiers.

Monday May 14

The Veteran's Journal
The Veterans Journal, as a newspaper, was established in 1997, in San Diego, California. Published as a monthly paper for the first four years, the Journal changed to a weekly edition in 2001. The Veterans Journal provides in-depth news and information beyond that which the mainstream press will cover.


When Will You Roar-Enough?
To listen to the George Soros bought-and-paid-for Left, whining their way through the 'destroy the Right at any cost' campaign, you would conclude - if you were as dim-witted as they assume you are - that they had solid political argument on their irrational side for controlling the future of these United States. They don't!

Monday April 30

March2Sucess Program
FORT KNOX, Ky. (Army News Service, April 17, 2007) - The U.S. Army Recruiting Command is helping prospective recruits and other students improve their test-taking strategies and math, science and English skills through March2Success, a free Web-based program.


Knowing Your Financial Rights
Reservist and National Guard families whose loved ones have been activated for duty often face more than the pain of separation-they face financial hardship as well. A survey by the Department of Defense for Reserve Affairs found that 31% of families saw a decrease in income when a husband or wife was summoned for duty.


Air Travel Tips
As you prepare to take to the skies, there are some simple steps you can take to help keep your travels safe, stress free, and enjoyable. Here are a few recommended by the Federal Aviation Administration:

Friday April 27

New JKO Portal to Offer Joint Online Training
A new system unveiled today is designed to better prepare servicemembers to operate with other services, government agencies, foreign military and non-governmental organizations while reducing the time they spend away from home or their units for military classes.


Adopt A U.S. Soldier
To honor active US military personnel, Adopt A US Soldier is a volunteer-based program that connects supportive Americans with deployed soldiers and offers a channel by which to communicate encouragement and express gratitude to the brave men and women serving our nation.


Stryker Simulators Get Drivers Up to Speed
Perhaps the most realistic training simulator to date, the Common Driver Trainer/Stryker Variant is designed to provide initial training for drivers and vehicle commanders on all 10 variants of the Army's workhorse urban combat vehicle. The $800,000 simulators are expected to save lives, money and time.

Friday April 13

Grand Canyon Skywalk Grand Opening
Almost 2,000 people visited Grand Canyon West, home of the new Skywalk, on Wednesday. The Skywalk is the first ever cantilever-shaped glass walkway suspended more than 4,000 feet above the canyon's floor and extending 70 feet from the canyon's rim.


Tax Information for Military Members
The tax laws provide some special benefits for active members of the U.S. Armed Forces, including those serving in combat zones.




Army Reserves College Fund
As a Soldier in the Army Reserve, you'll have the time and freedom to put your educational benefits to good use. If you want to go to college, the Army Reserve will help pay for it. If you've already attended college, the Army Reserve will help pay off your loans. The following programs are available to all qualified applicants.




Recruiting and Retention for March
The Department of Defense announced today its recruiting and retention statistics for the active and reserve components for the month of March



Friday March 30

Kilauea Miltary Camp
Kilauea Military Camp (KMC), a Joint Services Recreation Center, is surrounded by the dramatic beauty of Hawai'i Volcanoes National Park. Nearby is the world's most active volcano, Kilauea. The accommodations, amenities and tour packages offered by KMC let you capture all the mystery and wonder of the Big Island.

Thursday March 29

AnySoldier.com Supports Troops
Any Soldier Inc. started in August 2003 as a simple family effort to help the soldiers in one Army unit, thus our name. Due to overwhelming requests, on 1 January 2004 the Any Soldier® effort was expanded to include any member, of any of the Armed Forces in harms way.


Army 10-Miler Coming Up
Sign up early to ensure your spot in the Army's annual world-class race in the Nation's Capital. The ATM is a Washington, DC tradition, an event not to be missed and named one of six Big Top 10-Milers To Run by Runner's World - run ARMY!


Army Uses YouTube, Flickr, Del.icio.us
The Army has started sharing videos and photos of Soldiers in action around the world at popular content-sharing Web sites. YouTube, Flickr and Del.icio.us are now showing footage of Soldiers fighting the war on terror, helping to guard the southwestern border, assisting others during natural disasters, partnering with homeland-security first responders and providing humanitarian assistance.


$2,000 Army Referral Bonus for Civilians
Effective March 15, the Referral Bonus Program is expanded to include Department of the Army Civilians. This recruiting incentive currently pays Soldiers and Army retirees $2,000 for referring applicants who enlist in the Regular Component of the Army, Army Reserve, or Army National Guard; complete basic training; and graduate advanced individual training.


Wednesday March 28

Army Uses Virtual Tool in Battle
The Humvee rumbles down the narrow desert road. To the left and right there is nothing but an expanse of beige sand, with an occasional palm tree sprinkled here and there. Looking up through the gunner's hatch, the sky is blue and cloudless. It seems like a normal day - until the attack begins.

Thursday March 15

Bonuses: Earning Extra Money
In addition to Basic Pay or Drill Pay, there are many opportunities to earn additional money in the Army. These one-time bonuses are available if you choose a specific Army job, complete special training, take on extra responsibilities or have served in the military before.


Shades Of Green®
Shades of Green® on WALT DISNEY WORLD® Resort...
is an Armed Forces Recreation Center (AFRC) located in Central Florida. The newly expanded Shades of Green is the only AFRC located in the continental U.S. The Shades of Green Resort is a true resort destination; offering the perfect mix of exceptional resort accommodations and friendly hospitality.


Rehab Center Caters to Techno-Savvy
With a one-of-a-kind virtual reality simulator and a sports program that could challenge even the most intense extreme sports fan, the Army's new physical rehabilitation center offers patients "therapy disguised as fun," said Col. John Shero.


Army e-Learning
The latest component of DLS is Army e-Learning. The Army e-Learning Program provides free training for every Active Army, National Guard, Reservist, ROTC Cadet and Department of the Army Civilian with access to over 2,000 commercial web-based information technology, foreign language, business, leadership, and personal development courses.


A Father and Son Reunion
Having a servicemember for a dad might mean holidays apart during deployment or a few missed soccer games. But in this case a 25-year separation put their relationship to the ultimate test.


Less Violence, More Confidence in Iraq
Violence is down in Iraq and Iraqis "are starting to see this growth and gaining new confidence," a coalition spokesman in Baghdad said today.

Tuesday March 13

Active Services Exceeds Recruiting Goal
Active-duty recruiting is in good shape, with all services making or exceeding their goals in February, but four of the six reserve components did not make their numbers, Defense Department officials announced yesterday.

Monday March 12

November Recruiting Goals Met
All military components met their recruiting goals in November. It was the sixth month in a row that all services made their recruiting goals, officials said.

Friday March 02

Virtual Game Lets Civilians Act as Soldiers
Only Soldiers know how it feels to fight in a combat zone, but civilians now have an opportunity to get a virtual taste of the action.


Storming the Ivory Tower
A recent Supreme Court decision, Rumsfeld v. Forum for Academic and Institutional Rights, Inc. (FAIR), has once again opened university campuses to military recruiters.


Army Joins "Military Saves" Week
The United States Army, in coordination with the Defense Department, is celebrating Military Saves Week Feb. 25 through March 4. This is part of the DoD Financial Readiness campaign, and the purpose is to encourage Soldiers and their families to establish positive fiscal management habits through savings and financial planning.

Thursday March 01

Army Sports
Army Sports programs provide soldiers an opportunity to participate in a full range of individual and team sports. Emphasis is placed on mass participation at the intramural level - with instruction, practice, and competition planned for all skill levels, starting with the beginner.


When Does Daylight Time Begin and End?
Starting in 2007, daylight time begins in the United States on the second Sunday in March and ends on the first Sunday in November.


Resources for Wounded
This article is intended to give military families a basic understanding of available resources and the overall process if their servicemember is wounded, injured or becomes ill in the line of duty.


Military Spouse Scholarship Program
The National Military Family Association's Joanne Holbrook Patton Military Spouse Scholarships are awarded to spouses of Uniformed Services members (active duty, National Guard and Reserve, retirees, and survivors) to obtain professional certification or to attend post secondary or graduate school.

Thursday February 15

Who is Volunteering for Today's Military?
Each year, about 180,000 young Americans enlist for active duty service in the Armed Forces. A number of myths have been perpetuated about those young people who volunteer to serve.


Program Helps Vets Own Franchises
When he returned home from an 11-month deployment to Iraq in October 2005, Army Staff Sgt. John Reid realized he'd stashed away a sizeable sum of cash and wanted to put it to work for himself.


Video Teleconferencing Connects Soldiers
"Snail mail" is quickly becoming a thing of the past for deployed soldiers thanks to the 1st Cavalry Division's commitment to keeping families close through video teleconferences.


Two American Heroes
Read the store of two American Heroes. These are just two of our nation's sons and daughters who are completing history's great task on behalf of human freedom.


Are You Eligible for a VA Loan?
Before arranging for a new mortgage to finance a home purchase, veterans should consider some of the advantages of VA home loans.The more you know about the VA Loan program, the more you will realize how little "red tape" there really is in getting a VA loan. These loans are often made without any down payment at all, and frequently offer lower interest rates than is ordinarily available with other loans.


Enlistment Numbers For January
The Department of Defense announced today its recruiting and retention statistics for the active and reserve components for the month of January.

Monday February 12

Bomb-making Sites Raided
American and Iraqi soldiers raided suspected bomb-making sites in eastern Baghdad yesterday, military officials reported, while U.S. and Iraqi troops yesterday nabbed 10 suspected insurgents following a firefight near the village of Ubaydah, Iraq.

Friday February 02

Higher Education - A Reality For Soldiers
"Well, I joined so I could have a way to pay for college."—Members of our military have been known to say this for years. Reports vary, but generally reveal that for various reasons most eligible military service members and veterans never take advantage of the educational benefits available to them.

Friday January 26

Confidential Mental Health Assessments
Tens of thousands of military families took advantage of the Mental Health Self-Assessment Program (MHSAP), a Department of Defense program of anonymous mental health and alcohol self-directed screenings, in 2006. This enormous response is driving the addition of program enhancements to provide more services for families concerned about themselves or their children.


Military OneSource Offers Free TaxCut
Military OneSource now offers the TaxCut Basic Online® Program by H&R Block – free to active duty, Guard, and Reserve servicemembers and their families.

Thursday January 25

Field Problem-Books for Military Children
My husband is scheduled to deploy soon. I have found many books and resources for the military spouse but none for my 5 year old son. Can you tell me of any good books for military children regarding deployment? Actually, any children's books related to military would be a great help.


Team Attacked Training Iraqi Police
The morning is chilly as Sgt. Alexis Medina briefs his squad on its mission. Medina and his Soldiers, from the Florida National Guard's Company D, 2nd Battalion, 124th Infantry Regiment, are one of several squads that make up the police transition team working in Tal Afar. Their mission is to see that the Iraqi police are properly trained so they can operate on their own.


Army Veterans Resources
Veteran Soldiers will always be a valued extension of the Army family. This section provides information about veterans' benefits, retirement planning and a variety of veterans' organizations.


Center for Army Lessons Learned
The Center for Army Lessons Learned (CALL) collects and analyzes data from a variety of current and historical sources, including Army operations and training events, and produces lessons for military commanders, staff, and students. CALL disseminates these lessons and other related research materials through a variety of print and electronic media.


Army Credentialing Opportunities
Army Credentialing Opportunities On-Line (COOL) is a web site that provides information on how soldiers can fulfill the requirements for civilian certifications and licenses related to their military occupational specialties (MOS).


U.S. Army Accessions Command
The U.S. Army Accessions Command (USAAC) was established by general order on 15 February 2002. It is a subordinate command of TRADOC charged with providing integrated command and control of the recruiting and initial military training for the Army's officer, warrant officer, and enlisted forces. Designed to meet the human resource needs of the Army from first handshake to first unit of assignment, the command transforms volunteers into soldiers and leaders for the Army.


Military Entrance Processing Organization
The Military Entrance Processing Station (MEPS) plays a vital role in maintaining the nation's military might by ensuring that each new member of the Armed Forces: The Army, Marines, Navy, Air Force and Coast Guard; meets the high mental, moral and medical standards required by the Department of Defense and the military services.


Retention NCOs, Career Counselors Dispel Reenlistment Rumors
Retention NCOs and career counselors here are advising Soldiers to seek reenlistment information from subject matter experts - not fellow Soldiers, who may not have all the facts.


Army's 'Blue to Green' Program Hits Milestone
WASHINGTON, Jan. 24, 2007 – The Army's "Blue to Green" program, designed to allow airmen, sailors and Marines affected by force shaping to move to the Army, recently hit a milestone, a Defense Department official said here today.

Tuesday January 16

ACU Policy
Referrences:
ACU Policy Published by SGM Katrina Easley from ALARACT.
Brief History:
On June 14, 2004, fielding of the new ACU was announced
MILPER message announced new wear policy and amendments to AR 670-1
Soldiers who deploy are being issued the ACU (since Feb 05) and ACU pattern items (including IBAS)
ACU/Boot Phase In:
THE ACU/BOOTS MANDATORY POSSESSION DATES (MPD) ARE AS FOLLOWS:

2 EACH ACU BY 1 MAY 07 (AC, USAR & ARNG)
4 EACH ACU BY 1 MAY 08 (AC, USAR & ARNG)
4 EACH ACU BY APR 2010 (ROTC)
1 EACH ARMY COMBAT BOOT (TEMPERATE WEATHER) OR ARMY COMBAT BOOT (HOT WEATHER) BY 1 MAY 07 (AC, USAR & ARNG)
1 EACH ARMY COMBAT BOOT (TEMPERATE WEATHER) AND 1 EACH ARMY COMBAT BOOT (HOT WEATHER) BY 1 MAY 08 (AC, USAR & ARNG)
1 EACH ARMY COMBAT BOOT (TEMPERATE WEATHER) AND 1 EACH ARMY COMBAT BOOT (HOT WEATHER) BY APR 2010 (ROTC)

The ACU Ensemble:
ACU coat / trousers
ACU patrol cap
Hot weather boots (desert tan, suede boots)
2 inch riggers belt (tan or black authorized)
Moisture wicking t-shirts (tan)
Velcro full color flag, nametapes, rank, organizational patches (authorized in ACU pattern or OD)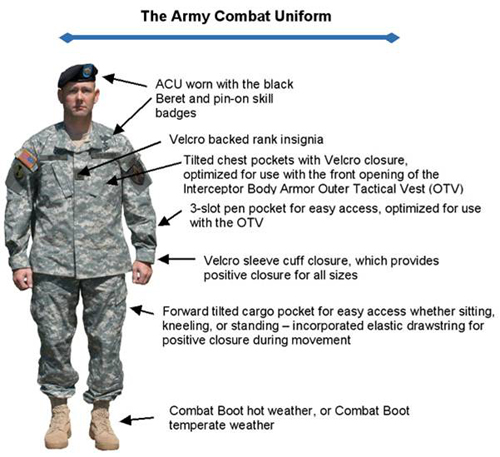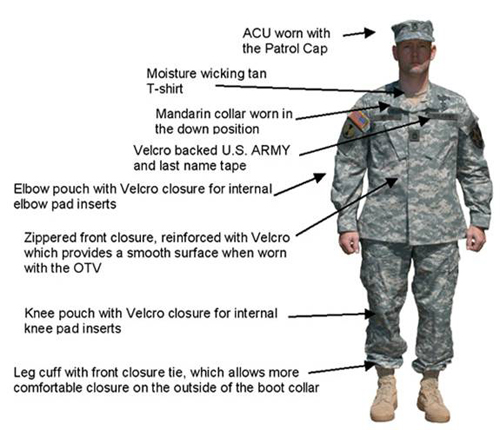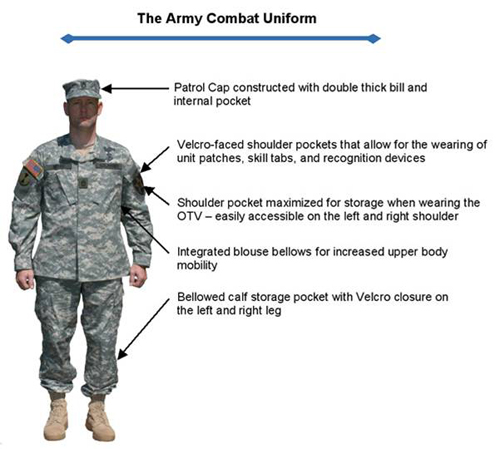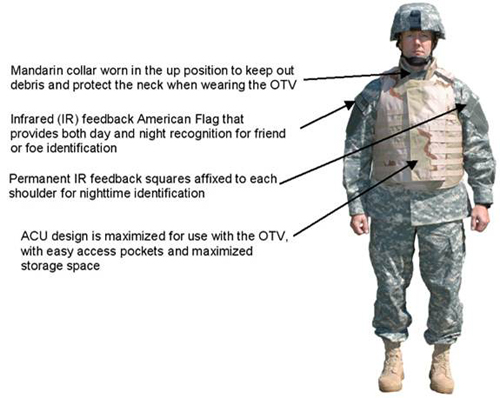 Items Authorized with the ACU
Black Beret
ACU sun (boonie) hat
Socks (black or green, cushion sole)
Cold Weather Field Jacket (Woodland Pattern or ACU Pattern)
Gore-Tex parka and pants (Woodland Pattern or ACU Pattern)
ACU Fleece (black or loden green)
Gloves- SOLDIERS MAY WEAR GLOVES WITH THE ACU WITHOUT THE COLD WEATHER OUTER GARMENTS (I.E., GORTEX JACKET OR FIELD JACKET, ETC.)
T-shirt (brown, cotton and Tan moisture wicking)
Combat and Special Skill Badges (pin on subdued [optional] 5 max)
Headgear insignia (Sew-on or Pin-on)
SSI-FWTS (combat patch)
Hydration systems, and organizational clothing and equipment (as determined by the commander)
Exceptions
During the phase in process, there will be a mix of camouflage pattern items, such as wearing the ACU's with a woodland Gore-Tex parka. The Phase-in period for the ACU universal camouflage pattern is MAY 05 to MAY 08.
The Commander can authorize a mix of DCU and Woodland items until the ACU pattern is completely phased in to all equipment systems

Wash and Wear Policy
"SOLDIERS WILL NOT STARCH THE ARMY COMBAT UNIFORM UNDER ANY CIRCUMSTANCES. THE USE OF STARCH, SIZING, AND ANY PROCESS THAT INVOLVES DRY-CLEANING OR A STEAM PRESS WILL ADVERSELY AFFECT THE TREATMENTS AND DURABILITY OF THE UNIFORM AND IS NOT AUTHORIZED"
-ACU MILPER MESSAGE, AMENDMENT TO
AR 670-1
Designed to be worn under body armor (IBAS)
Will be worn by soldiers all year round except when prohibited by the order of the commander
The ACU may be worn off post unless prohibited by the commander
The ACU will not be worn while on commercial travel unless previously authorized under AR 670-1, paragraph 1-10C.
Soldiers will not wear the ACU at any off-post establishments that primarily sell alcohol. In off-post establishments where both alcohol and food are sold, soldiers may wear their ACU's only if their activities do not center on drinking
ACU's are not appropriate attire for social or official functions off military installations such as funerals, memorial services, weddings, political events, patriotic ceremonies, etc.
Sewn on rank is only authorized on the ACU Patrol Cap, ACU Boonie Hat, and Kevlar Camouflage cover.
The ACU is meant to fit loosely and comfortably. Alterations to hinder this appearance are not authorized.
Wear of the ACU Coat / Trousers
THE COAT IS WORN HOOK AND LOOPED AND ZIPPED
THE COAT HAS HOOK AND LOOP FASTNERS FOR WEARING THE U.S. FLAG INSIGNIA,
SKILL TABS, SHOULDER SLEEVE INSIGNIA, SHOULDER SLEEVE INSIGNIA - FORMER WARTIME SERVICE, RANK, U.S. ARMY TAPE, AND NAME TAPE.
THE COAT HAS A ZIPPERED FRONT CLOSURE, TILTED CHEST POCKETS WITH HOOK AND LOOPED CLOSURE, HOOK AND LOOPED SLEEVE CUFF CLOSURE (WHICH MUST BE CLOSED AT ALL TIMES), INTEGRATED BLOUSE BELLOWS FOR INCREASED UPPER BODY MOBILITY, AND SHOULDER POCKETS WITH HOOK AND LOOP.
THE MANDARIN COLLAR WILL BE NORMALLY WORN IN THE DOWN POSITION.
SOLDIERS ARE AUTHORIZED TO WEAR THE MANDARIN COLLAR IN THE UP POSITION WHEN WEARING BODY ARMOR OR WHEN WEATHER CONDITIONS DICTATE THE WEAR AS PRESCRIBED BY THE COMMANDER.
THE COAT IS NORMALLY WORN OUTSIDE THE TROUSERS, AND THE TROUSERS ARE WORN WITH A BELT. THE COAT MAY ALSO BE WORN INSIDE THE TROUSERS WHEN DIRECTED BY THE COMMANDER (I.E., WHEN WEARING IBAS, MOPP GEAR, ETC.).
THE COAT WILL NOT EXTEND BELOW THE TOP OF THE CARGO POCKET ON THE TROUSERS AND WILL NOT BE HIGHER THAN THE BOTTOM OF THE SIDE POCKET ON THE TROUSERS.
THE ELBOW POUCH WITH HOOK AND LOOP CLOSURE FOR INTERNAL ELBOW PAD INSERTS MUST BE CLOSED AT ALL TIMES.
PERMANENT INFRARED FEEDBACK SQUARES AFFIXED TO EACH SHOULDER FOR NIGHTIME IDENTIFICATION WILL BE COVERED WHEN INSIGNIAS ARE NOT WORN ON THE POCKET FLAPS.
SLEEVES WILL BE WORN DOWN AT ALL TIMES, AND NOT ROLLED OR CUFFED.
THE MOISTURE WICKING TAN T-SHIRT OR COTTON T-SHIRT IS WORN UNDERNEATH THE COAT AND IT IS TUCKED INSIDE THE TROUSERS AT ALL TIMES.
SOLDIERS WILL WEAR THE TROUSERS TUCKED INTO THE TOP OF THE BOOTS OR BLOUSED USING THE DRAW STRINGS AT THE BOTTOM OF THE TROUSERS OR COMMERCIAL BLOUSING DEVICES.
PERSONNEL WILL NOT WRAP THE TROUSER LEG AROUND THE LEG TIGHTLY ENOUGH TO PRESENT A PEGGED APPEARANCE OR INSERT ANY ITEMS INSIDE THE TROUSER LEG TO CREATE A ROUND APPEARANCE AT THE BOTTOM OF THE TROUSER LEG.
WHEN BLOUSED, THE TROUSERS SHOULD NOT EXTEND BELOW THE THIRD EYELET FROM THE TOP OF THE BOOT.
THE KNEE POUCH WITH HOOK AND LOOP CLOSURE FOR INTERNAL KNEE PAD INSERTS AND THE BELLOWED CALF STORAGE POCKET WITH HOOK AND LOOP CLOSURE ON THE LEFT AND RIGHT LEGS WILL BE WORN CLOSED AT ALL TIMES.

Wear of the ACU Uniform
U.S. FLAG INSIGNIA - THE U.S. FLAG INSIGNIA (FULL COLOR OR SUBDUED) IS WORN ON THE RIGHT SHOULDER POCKET FLAP OF THE ACU COAT. THE FLAG INSIGNIA IS PLACED DIRECTLY ON TOP OF THE HOOK AND LOOP-FACED PAD ALREADY PROVIDED WITH THE ACU COAT SHOULDER POCKET FLAP. THE SUBDUED U.S. FLAG INSIGNIA IS WORN AS DIRECTED BY THE COMMANDER UNDER TACTICAL OR FIELD CONDITIONS.
LAST NAME/U.S. ARMY TAPE- LAST NAME/U.S. ARMY TAPES ARE 5 INCHES IN LENGTH, HAVE A HOOK AND LOOP-FACED PAD, AND ARE WORN IMMEDIATELY ABOVE AND PARALLEL WITH THE TOP OF THE SLANTED CHEST POCKET FLAPS. THE BACKGROUND OF THE LAST NAME/U.S. ARMY TAPE CAN BE EITHER OLIVE GREEN OR THE UNIVERSAL CAMOUFLAGE PATTERN.
Wear of ACU Headgear
The black beret and other distinctive berets (maroon, tan, green) will be worn in garrison environments unless directed otherwise by the commander. This includes senior and junior ROTC instructors, SMP Cadets, BCT soldiers, and split-option soldiers. Upon return to a BCT environment, split-option soldiers will return to wearing the ACU patrol cap. Soldiers who have not been issued the black beret, or who do not wear the black beret will wear the ACU Patrol Cap instead.
The ACU Patrol Cap is worn with the ACU in field environments and when the Kevlar helmet is not worn, on work details, or when the wear of the beret is impractical as determined by the commander. Soldiers will wear the ACU Patrol Cap straight on the head so that the cap band creates a straight line around the head, parallel to the ground. The Patrol Cap will fit snugly and comfortably around the largest part of the head without distortion or excessive gaps. The cap is worn so that no hair is visible on the forehead beneath the cap. Sewn or pin on rank is worn on the ACU Patrol Cap. The last name will be centered on the back of the cap with Velcro fasteners to the Velcro panel that is pre-sewn onto the cap.
The ACU Sun (Boonie) Hat will be worn in field environments when the Kevlar helmet is not worn, or the commander determines it is appropriate to wear. The ACU Sun Hat is typically worn on work details or combat environments where the Kevlar helmet is impractical, as determined by the commander. Sew on and pin on rank are both authorized for wear on the ACU Sun Hat.. The draw string on the ACU Sun Hat can be worn under the chin, around the back of the head and neck, or tucked into the top of the hat. The ACU Sun Hat will not be worn rolled, formed, shaped, blocked, or with an upturned brim.
The Micro Fleece Black Cap is worn with the ACU in field environments when the Kevlar helmet is not worn, on work details, or in other environments where the wear of the beret is impractical, as determined by the commander. The Black Fleece Cap will be pulled down snugly on the head. Soldiers will not roll the edge of the cap.

Wear of Desert Boots
Black boots are NOT authorized for wear with the ACU'S.
ACU CURRENT POLICY OF AR 670-1, AUTHORIZING AIRBORNE, AIR ASSAULT, AND MILITARY POLICE PERSONNEL TO WEAR THE ALL-LEATHER, BLACK BOOTS WITH THE SERVICE UNIFORM (CLASS A AND B) REMAINS UNCHANGED.
Army Combat Boots – (Hot Weather and temperate weather) made of tan rough side out cattle hide leather with a plain toe and tan rubber outsoles. The boots are laced diagonally with tan laces, with the excess lace tucked into the top of the boot under the bloused trousers, or wrapped around the top side of the boot. Metal cleats and side tabs or sewn in or laced in zippers are not authorized. Only boots with tan rubber outsoles are authorized for wear.
Soldiers may wear commercial boots of a design similar to that of the Army Combat Boot (tan), 8 to 10 inches in height as authorized by the commander. The boots must be made of tan rough side out cattle hide leather, with a plain toe, and have a tan, rubber outsole.
NO STEEL TOE!!!!!!!


Corcoran Men's Commercial Desert Boot
Estimated Cost: $99.95
---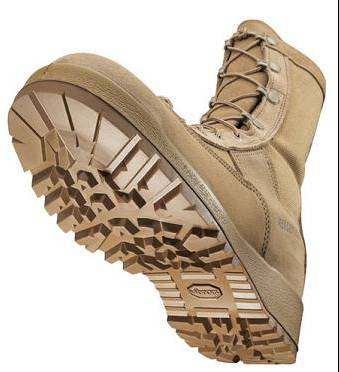 Belleville Temperate (Gore-Tex) Boot

Estimated Cost: 128.50
(This IS an issue item)

---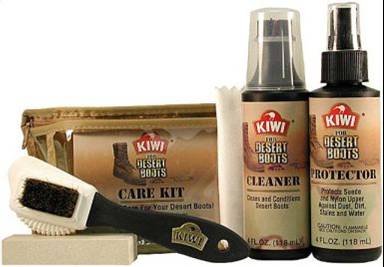 Desert Boot Care Kit
Estimated Cost: 8.00
---
THE ACU CARE POLICY
WASH IN COLD WATER AND MILD DETERGENT CONTAINING NO OPTICAL BRIGHTENERS OR BLEACH.
TUMBLE DRY AT LOW HEAT (NOT TO EXCEED 130 DEGREES FARENHEIT).
REMOVE IMMEDIATELY FROM THE DRYER AND FOLD FLAT OR PLACE ON A RUSTPROOF HANGER TO ENSURE HEAT FROM THE DRYER DOES NOT SET WRINKLES.
TO DRIP DRY, REMOVE FROM THE WASHER/WATER AND PLACE ON A RUSTPROOF HANGER. DO NOT WRING OR TWIST.
LAUNDERING THE ARMY COMBAT UNIFORM (ACU)
While the ACU comes with a care manual, some items on the laundering instructions are not covered in the manual. On the care label, the instructions are to launder in a mild detergent which does NOT contain "optical brighteners". No laundry detergent lists whether or not it contains these brighteners. By contacting the individual laundry detergent manufacturers the following list was compiled of detergents which do contain optical brighteners and those which do not:
CONTAINS OPTICAL BRIGHTENERS
Dreft Liquid
Dreft Powder
Era Liquid (all versions)
Gain Liquids (all versions)
Gain Powders (all versions)
Ivory Snow Liquid
Ivory Snow Powder
Tide Liquids (all versions)
Tide Powders (all versions)
Tide Tablets (all versions)
Fab (all versions)
Dynamo (all versions)
Ajax (all versions)

CONTAINS OPTICAL BRIGHTENERS
Suavitel Fabric Softener (all versions)
All laundry products made by Colgate-Palmolive
Arm & Hammer Liquid (all versions)
Arm & Hammer FabriCare Powder (all versions)
Arm & Hammer Fresh 'n Soft Fabric Softener (all versions)
Arm & Hammer Super Washing Soda
Rain Drops Water Softener and Detergent Booster
DeliCare Fine Fabric Wash (all versions)
Wisk (all versions)
All Liquid (all versions)
Surf Liquid (all versions)
Yes (all versions)
All Dial Laundry Products including:

Purex Powder (all versions)
Purex Liquid (all versions)
Purex Fabric Softener (all versions)
Purex Baby (all versions)
20 Mule Team Detergent (all versions)
Zout (all versions)

DO NOT CONTAIN BRIGHTENERS:
Bold Powder
Cheer Liquid (all versions)
Cheer Powder (all versions)
All Powder (all versions)
Surf Powder (all versions)
Woolite (all versions)
QUESTIONABLE CONTENTS (SHOULD PROBABLY AVOID)
Spray 'n Wash (all versions)
Calgon (all versions)
CAUTION: If using a store brand or "generic", the label usually states "compare to [brand]" on the front panel. Match that to the list above for ingredient content.
Additionally, turning the uniforms inside out while laundering prevents the Velcro from attaching to other items and prolongs the usefulness of the Velcro.
Where Can I buy the ACU?
Military Clothing Sales at Fort Meade and Forrest Glenn. Expect backorders on Medium and Large Regular. Also, available on www.aafes.com --available "?"
How much do the ACU's Cost?
AAFES will be selling the ACU for 74.00 a set, or 37.00 per coat / trousers.
Commercially, you can buy the official ACU uniform between 36.00 and 49.00
The ACU Patrol Cap typically sells anywhere for 7.00-13.00
Most FAQ:
1. What is the difference between the ACU's I buy Commercially, and the ACU's I might get issued or, the ACU's I buy from AAFES?
A. There is only 1 difference. The IFF, 1'' x 1'' squares found on the shoulder flap pockets is not sewn on. You can buy Velcro on IFF squares from any website listed before for about 5 dollars per set. You can then transition these squares between uniforms. Many soldiers are complaining that their IFF tabs melt off in hot conditions – such as placing ACU's in a dryer on the "High Heat" setting. This is the only difference, which is easily correctible by Velcro IFF tabs. These uniforms are still authorized.
2. How do I spot an inferior (knock-off) uniform?
A.If buying ACU's online, make sure your ACU's are coming from an official manufacturer (NSN number 8455-01-524-4926).
ACU's are made 50% nylon, 50% cotton. All other blends are not official issue.
3. So, if I were to buy ACU's online, how much would it cost for the first set?
A. Remember, your first set will be the most expensive. It will include insignia, name tapes, boots, and headgear. Here is a breakdown of the cost of a typical first set of ACU's:
Shirt/Pants---74.00
Nametapes---10.00
Rank---6.00
Boots---99.00
IFF Flag/Full Color Flag---8.00
Headgear---10.00
Total: 215.00
Three More Complete Uniforms: 328.00

4. Why is the Uniform So Expensive? Does this make sense?
A. No cost of sewing – ever again
No cost for dry cleaning or ironing/ starching (none are authorized)
Altering uniforms is not authorized, so there is no need to sew pockets on the sleeve while in theatre of operations (combat situations)

Items that might confuse you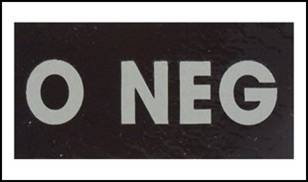 Don't Need It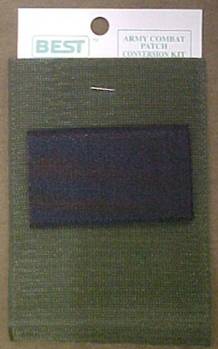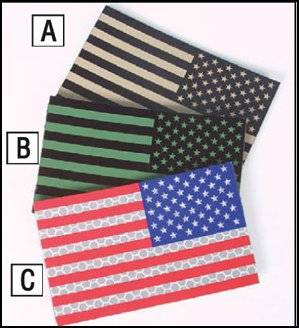 Don't Need It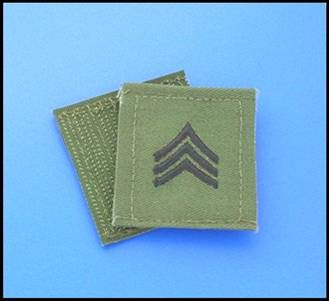 Need it if you have all OD Tabs
Monday January 15

2006 IncomeTax Information
Are you in need of a replacement tax statement? Do you think there's a problem with your tax statment? Or are you looking for a tax statment not available on myPay ? We can help!


Battle Buddies Give Recruits Confidence
Despite the many dangers that lurk behind abrupt corners, wait idly underneath the fine sands and come falling from the gray sky, two forward observers with Headquarters Company, Division Special Troops Battalion, 1st Cavalry Division, know why they have their boots on the ground in Iraq: the Soldiers right beside them.


The ACU Care Policy
Are you wondering how to care for and wear the new ACUs? Here's the scoop.

Tuesday January 09

Web Site To Serve Iraq & Afghan Veterans
Iraq and Afghanistan Veterans of America is the nation's first and largest group dedicated to the Troops and Veterans of the wars in Iraq and Afghanistan, and the civilian supporters of those Troops and Veterans. (212) 982-9699

Tuesday January 02

Think About A Career, Not Just A Job
A career that allows you to capitalize on your skills and be proud of your work. One that keeps you interested day in and day out, because it's all about your interests. Whether you're about to graduate from high school, already enrolled in college, or looking to change careers, you have the chance to become a Caterpillar® Dealer Service Technician right now.


Army Video News - Ford Funeral Procession
APTN (APTN), World
Tue 2 Jan 2007 10:53 AM EDT
Following a 21 gun salute, military pallbearers carried the body of Gerald Ford down the Capitol steps, beginning his journey to the National Cathedral. (Jan. 2)


Selective Service To Test Draft
The U.S. has not tested the "Military Draft System" since 1998 and The Selective Service System plans a comprehensive test of the military draft machinery in 2009. The Selective Service agency says they are NOT GEARING UP FOR A DRAFT.


Why I Serve
While some Soldiers are taking opportunities offered by the Army for granted, others are taking full advantage of everything offered to them. The Army offers excellent educational benefits but it's up to each soldier to set their goals and work to achieve them.


UAV 'Eye in the Skies' Over Baghdad
It's hard to believe that such a small aircraft could make such an awfully loud racket. But with all the noise of the unmanned aerial vehicle, comes help in the battle against the insurgency and sectarian violence that has been plaguing Iraq.

Monday January 01

Military Housing Rates Boosted
Servicemembers will receive an average 3.5 percent boost in their basic allowance for housing compensation benefit in 2007, Defense Department officials said.

Friday December 15

Army Makes November Recruiting Goal
Though Americans are increasingly pessimistic about the war in Iraq, the Pentagon said Tuesday it is having success enlisting new troops. All active-duty components made their recruiting goals in November.



TRICARE Expands Mental Health Screening
The Department of Defense has issued improved policy guidance for military personnel with deployment-limiting psychiatric conditions, and for those who are prescribed psychiatric medications.


Troops Pay For Multiple Deployments
Troops are now being re-deployed to battle as many as five times with less and less time to decompress between tours of duty. Were there not a need for so many bodies in the field, troops displaying emotional problems would be a liability and sent home for treatment.


HOOAH.com Creating World's Largest Greeting Card
Check out Hooah.com and the World's Largest Christmas & Holiday Card to the Troops! On December 22, HOOAH.com will present the card to the Sergeant Major of the Army, who will receive the card on behalf of all service-members.

Thursday December 07

ACU Clothing and Individual Equipment
The ACU consists of a jacket, trousers, patrol cap, moisture wicking t-shirt and the recently adopted Army Combat Boot (Temperate and Hot Weather). The new ACU is the culmination of many months of research and development by Soldiers, for Soldiers, and is the uniform of choice by the overwhelming majority of Army leaders and Soldiers.

Wednesday December 06

The New Army Combat Uniform
The ACU consists of a jacket, trousers, patrol cap, moisture wicking t-shirt and the recently adopted Army Combat Boot (Temperate and Hot Weather). The new ACU is the culmination of many months of research and development by Soldiers, for Soldiers, and is the uniform of choice by the overwhelming majority of Army leaders and Soldiers.


New ACU Related Questions
New Army Combat Uniform Related Questions

Monday December 04

Shipping Packages To Troops?
Military mail headed to other overseas points should be sent by December 11th. If you are mailing packages within the U.S., the Postal Service's suggested deadline via parcel post is December 13th. For parcels sent first class, the deadline is December 18th. Customers should ship Priority Mail by December 20th and switch to Express Mail by December 22nd and December 23rd.



Actors Visit Troops, Tour Pentagon
Servicemembers at Walter Reed Army Medical Center here and the Pentagon weren't imagining things yesterday; they actually were seeing stars.


Fisher House Offer Scholarships
The Defense Commissary Agency and the Fisher House Foundation have teamed up for the seventh year to offer educational scholarships to children of military families and retirees.

Friday December 01

First-ever Purple Heart Memorial Opens
The oldest U.S. combat medal has a new home of honor on a site where Americans first fought for freedom. The $6 million Hall of Honor is first in the nation to recognize U.S. servicemembers wounded or killed in action from the American Revolution to the global war on terror.


Army/Navy Battled In 107th Classic
One of the most revered rivalries in all of sports will be revisited Saturday when Army and Navy battle for the 107th time. The Army-Navy Classic pits the 3-8 Black Knights opposite the 8-3 Midshipmen in Philadelphia, Pa. As the sun sank below Philadelphia's skyline saturday, gold helmets shone under the Lincoln Financial Field lights while the Naval Academy Midshipmen ground out a 26-14 win over the Black Knights of the Military Academy in the 107th Army-Navy football game.

Wednesday November 15

Army Temporary ACU Boot Policy
The Army announced yesterday that in certain geographic areas for the next six months the black Intermediate Cold Wet Boot will be authorized for wear with the Army Combat Uniform in lieu of the tan ICWB, which is currently in short supply.


Fewer, More Predictable Deployments
Changes being made in the way the force is structured, trains and deploys ultimately will mean fewer deployments and more predictability for individual troops, the chairman of the Joint Chiefs of Staff told National Guardsmen today during a town hall meeting here.



Pay Raise - How Much Do I Get?
Officially, it's 2.7% across the board, but here's the real scoop.


Shipping Tokens from Home for Christmas
Article Deleted Per " Field Problems" Request.


Daytona USA Honors Troops
Servicemembers will receive free admission at Daytona USA throughout November to celebrate Armed Forces Month. All personnel with a military identification card are eligible for the promotion. Family members accompanying ID cardholders will be admitted for $10 to NASCAR's premier attraction in Daytona Beach, Fla.

Tuesday October 31

Thrift Savings Plan: What You Need To Know
It's almost that time of year when you need to start considering taxes. And the government is going to make its final push to get you enrolled in the Thrift Savings Plan (TSP). But if you are under 50 it might not be such a great deal.


Let's Say Thanks Program
Social responsibility has been ingrained in the Xerox culture since our earliest days as a company. The Let's Say Thanks program provides one more outlet for the company to deliver value to the community and support the men and women stationed overseas.


Monday October 30

Military Spouses - Working From Home
Article deleted per "Field Problems" request.

Friday October 27

The Army's Current Enlistment Bonuses
Confused by the Army's Enlistment Bonus programs. Get straight answers here.

Thursday October 26

VA's Veterans Pride Initiative
Help kindle a new spark of patriotism" the VA is asking men and women who have served in the military to wear their medals on Veterans Day.

Wednesday October 25

Commissary Glide
Consider the Macarena, the Chicken Dance or the Electric Slide - they may still be around, but they're definitely not cool. When you do the Commissary Glide, however, you're sure to be cool for many years to come.

Monday October 16

Military Transforming Medical Records
As with most everything else in today's electronic world it looks like "Dog Tags" are destined to go high tech. The U.S. military is working to get vital medical information stored on an electronic dot tag.


Considering the Army Reserve?
In the current Global War on Terrorism, civilian employers of Army Reserve Soldiers play a critical role in the defense of the nation by complying with existing employment laws protecting the rights of Army Reserve Soldiers while they serve in defense of the nation. It is imperative and vitally important that the Army Reserve and the local community work together to build on the talents and skills of the Citizen-Soldier.

Friday October 13

Military Transforming Use of Medical Records
The U.S. military's health care community is transforming its approach to capturing, archiving and accessing servicemembers' medical records, a senior Defense Department official said here yesterday.


Port Security Law Protect Americans
The most solemn responsibility of the federal government is to protect the American people, and the U.S. government has taken many steps to better protect its people since the terrorist attacks of Sept. 11, 2001, President Bush said here today.


Strong Hopes for the New Army Slogan
The U.S. Army is replacing the relatively new slogan "An Army of One." The Army had to reevaluate the effectiveness of its $200 million per year advertising contract after missing its recruiting goals in 2005. The result is a new slogan with high expectations and deep meaning.


Army Training: More Than a Resume Bullet
In military you gain a lot of knowledge and experience, from learning how to best identify a roadside bomb to donning a gas mask in less than nine seconds.

Monday October 02

Terrorist Tactics
Iraqi guerilla attacks against Mulit-National Force - Iraq, Iraqi government and commercial targets typically take the following forms:


The New Iraq Country Facts


Broadcasting Independently in Burhiz
The voices and the faces of freedom are making their way onto the airwaves in the Diyala Province for the first time since coalition forces arrived in 2003.

Friday September 29

REDUX Military Retirement System

Wednesday September 27

GI Bill Allowance Increased


Top 5 Reasons People Fear Boot Camp

Friday September 15

POW/MIA Recognition Day
As Americans pause to observe POW/MIA Recognition Day today, teams of military and civilian experts will be excavating sites looking for remains to help identify servicemembers still missing from past wars.



September Spotlight on Life Insurance
This month you have two good reasons to give your life insurance an annual check-up. One – September is national Life Insurance Awareness Month. Two – some life insurance rates have actually gone down over the years, due in part to people living longer, healthier lives.


Thursday September 14

Buying a House? Use Your VA Benefits
Service members and veterans who decide to buy a house are eligible for a home mortgage guarantee offered by the Department of Veterans Affairs.


Troops To Teachers Program
Troops-to-Teachers provides Referral Assistance and Placement services to military personnel interested in beginning a second career in public education as a teacher. 10 Minute Troops To Teachers and 1st Lady Laura Bush's PSA video are now available on the Troops-to-Teachers web site.

Tuesday September 05

BreakAway Investor: Profit from the Pump
Proven investment system could be your key to "Free Gas for Life"


Friday September 01

10 Things To Know - Military Retirement
During my husband's retirement ceremony back in 2004, I was surprised to hear so many soldiers saying they weren't ready personally or financially for retirement. I even heard one soldier say, "Retirement meant that his life was over", his negative comments had an immediate effect on both his wife and children who went from smiles and laughter to fear and tears.


Who's Doing All Of This Traveling? Baby Boomers.
Traveling has always been one of those activities in life that satisfies needs and wants. Humans sometimes need to travel, perhaps for business or personal reasons. But, humans will always want to travel. Traveling presents stories of
romantic adventure, exploration, people in distant lands and, of course, vacation.


Thursday August 31

Diligent Investor: Traveling Chuppies
Traveling has always been one of those activities in life that satisfies needs and wants. Humans sometimes need to travel, perhaps for business or personal reasons. Read More Profit From the Pumps


BreakAway Investor: Profit from the Pump
We've all been stretched thin lately. Drivers have been rejoicing as gasoline prices fell a
few more cents this week and the national average is now $2.83 per gallon of regular
unleaded. Despite the decline, I'm sure your electricity bill and gasoline bill are probably
still taking up more of your disposable income than you'd like.


Army Ten-Miler Race
Fall is the time of year when the foliage takes on hues of gold, red and brown and thousands of runners take the challenge to run in America's largest 10 mile race - the Army Ten-Miler.


Weeklong events planned before Black Knights' matchup with Texas A&M
Local civic and city officials, Army athletic department personnel, Black Knights coaches and game promoters will participate in nearly a week's worth of special events throughout San Antonio in advance of the Black Knights' matchup with Texas A&M in the AT&T Corps Classic at the Alamodome Sept. 16.


Army's Future Combat Systems Completes Preliminary Design Review
The Army moved one step closer to transforming itself into a more relevant, capable and ready 21st-century force when, last week, it successfully completed In-Process Preliminary Design Review of its principal modernization effort, the Future Combat Systems (FCS) program.


AKO Homepage Gets New Look
Computer users landing on the Army Knowledge Online homepage are finding a new format. AKO launched a new homepage Aug. 26 to help users easily navigate the site and find information quickly.


U.S. Army Soldier Show accepting applications for 2007 auditions
Soldier-entertainers have until Dec. 31 to apply for an audition for the 2007 U.S. Army Soldier Show. Audio, video, lighting, costume and stage technicians also are needed.

Tuesday August 15

DoD Announces Military Spouse Employment Opportunity
The Office of Family Policy, is working with the real estate industry to significantly improve training and career opportunities for military spouses as part of the Military Spouse Employment Initiative. DoD is appreciative of the efforts of many real estate organizations that have collaborated with this initiative.



Sept. 11 Freedom Walk
The first city to join the Defense Department's "America Supports You" program is preparing to host a Freedom Walk on the fifth anniversary of the Sept. 11, 2001, terrorist attacks on the United States.
"The walk itself is not what we're focusing on, as much as just getting people out to participate," Enid, Okla., Mayor Ernie Currier said during a telephone interview with American Forces Press Service. Enid became an America Supports You partner in March 2005.


DoJ Launches New Web Site to Explain Military Rights
The Department of Justice has launched a Web site to protect servicemembers' rights, Attorney General Alberto R. Gonzalez said yesterday. Gonzales, speaking to the Disabled American Veterans annual convention in Chicago, said the Justice Department has made it a priority to enforce civil rights laws for American servicemembers.

Tuesday August 01

New Recruiting Age Limits
Every week I get emails from people asking me how to deal with being older than the average recruits at basic training. The age limit to enter the active duty Army has risen twice this year already (currently at 42).

Monday July 31

Want To Make Your Money Work For You While You're Deployed?
Want to make your money work for you while you're deployed, and come home to twice as much? Or maybe turn that hard-earned pension into enough to retire on - 10 years early?


Critical Need For Warrant Officers
Warrant Officers are technical and tactical leaders who specialize, throughout an entire career, in a specific technical area. Although small in size, the level of responsibility in the Army Warrant Officer Corps is immense and only the very best will be selected to become Warrant Officers. Benefits include extended career opportunities, worldwide leadership assignments, and increased pay and retirement benefits.


New Orleans Remains Problematic
Nearly an entire year since Hurricane Katrina devastated the U.S. Gulf Coast, leaving behind extensive damage to several states and the city of New Orleans, most would think that recovery is well underway.


Point-and-Click Careers
Point. Click. Enter. Rebooting your career into the next level or new direction isn't always as simple as Ctrl-Alt-Delete, but navigating your future within a cyber industry is certainly attainable with the right credentials. And when you think about it, it's only fitting that the same pieces of hardware you use everyday will help you build the IT skills you need to get started. From network security and Web design to eCommerce and computer animation, your computer could be the key to a super computer career.

Friday July 14

Can I Join the Army with a Felony?
One of the most common questions we get is "Can I Join the Army if I have a Felony". This FAQ Answers that question and outlines what other offenses that may keep you from joining the U.S. Army.


Financial Answers for Service Members
Q: A stash of extra cash: where to put it?
Q: TSP vs. Roth IRA: which is better?
Q: Buying your first home: what to do about debt?


Lower Recruiting Standards?
The military has been able to fill its ranks without sacrificing quality, DoD's top personnel official told reporters yesterday. David S. C. Chu, undersecretary of defense for personnel and readiness, said all active-duty components met their recruiting goals in June for the 13th month in a row. He said the reserve components also did well, with all but the Navy Reserve making their recruiting goals.


Servicemembers Getting Free Music CDs
The Armed Services YMCA is sending servicemembers free CDs with new and old popular country music hits that express pride in America. Under the "Send a CD to a Soldier" program, the Armed Services YMCA is sending the CDs to units supporting the global war on terrorism.

Thursday July 13

Online Higher Education
"The initials after your name lend credibility." Karen Cheathem has certainly learned that firsthand. Having recently completed her online MBA, she is now pursuing a Ph.D. on the Web as well. Lucky for her, the workplace values formal education and is increasingly embracing online learning as a means for employees to obtain it.

Wednesday June 28

Shopping for a Mortgage Loan?
In 1974, the Federal Government created the Real Estate Settlement Procedures Act or RESPA. The idea behind RESPA was to provide consumers with more accurate and timely information about the settlement process for mortgage loans. There are two important disclosures for borrowers, the Truth in Lending (TIL) and Good Faith Estimate (GFE).

Tuesday June 27

Army raises enlistment age to 42
The U.S. Army announced today that it has raised the maximum enlistment age for both the active Army and Army Reserve from 40 to 42.

Monday June 26

Recruiting Stats Alone Don't Tell Whole Story
The Army Reserve may fall 3 percent or 4 percent short of its recruiting goal for the year, but its new chief said that's not necessarily "a bad-news story."


Army Deployment Model Brings Readiness
The new training and deployment cycle being introduced Armywide will bring more predictable deployment schedules for Army Reservists, their employers and their families.

Wednesday June 14

Recent Changes In Creditor Policies
Recent changes in creditor policies and the United States Bankruptcy laws have created a tremendous financial burden for consumers. It is critical that we raise awareness and increase education in regards to these areas.

Friday June 09

3 Tips to Getting a Degree Faster & Cheaper
Getting a 4-year degree, as the name suggests, usually requires you go to school for 4 years. In addition, for a typical individual, this education will cost more that $50,000. That is a lot of time and money, neither of which servicemembers have just lying around. Fortunately, there are ways to get your degree faster and cheaper.

Thursday June 08

Shopping For A Mortgage Loan?
Most mortgage consumers ask, "what's your interest rate?" While this is an important question, it is not THE question that should be asked.

Tuesday June 06

New Recruiting Initiative for Retirees
The Army today expanded to retired Soldiers eligibility for the $1,000 recruiting referral bonus. This newest recruiting incentive pays retired Soldiers a $1,000 lump sum for referring applicants who enlist, complete basic training, and graduate individual advanced training.

Wednesday May 31

Retirement Act Gives Troops Tax Help
An act signed into law May 29 by President Bush solves a conflict in the tax code by allowing servicemembers who serve in a combat zone to still contribute to their individual retirement accounts, a Defense Department official said here today.


Dead-on Shooting Tips from a Combat Sniper
There is one word that every rifle shooter should know: BRASS. It is a word I learned many years ago as a young US Marine rifleman, and later a Marine sniper. If you learn this word and what each letter in the acronym means, and then apply them to every shot, you can't miss.

BRASS stands for five words: Breath, Relax, Aim, Slack and Squeeze. Basically, used in the order presented above, you do each step prior to making your shot. Here is what you do:



Tips for Families of Activated Personnel
Reservist and National Guard families whose loved ones have been activated for duty in Iraq or other distant lands face not only separation but often financial hardship as well. A survey by the Department of Defense for Reserve Affairs found that 31 percent of families saw a decrease in income when a husband or wife was called up.


10 eLearning Questions
If you're like many considering eLearning as a way to advance your career or continue your education, you might find the world of online education as confusing as it is intriguing. For those of you wondering how a college experience can be delivered on a computer, we've compiled answers to 10 frequently asked questions about distance learning from seasoned professionals.


Identity Theft Tips from USAA
With one unfortunate incident, 26.5 million U.S. veterans had their personal information compromised, and it could just as easily happen to anyone of us.



Can You Pay For It?
Traditional college students get scholarships and financial aid, not to mention help from mom and dad. So where does that leave you, the adult, nontraditional learner, especially if you plan to take the very nontraditional route of online education? Take a look at how to pay your way through school.

Tuesday May 16

Certificate Programs: Are They Worth It?
For the past 32 years, Linda Smith has worked for the Social Security Administration. Now, as a 60-year-old manager, she's looking toward retirement, but doesn't want to stop working altogether. So she decided to pursue an online master's degree in distance education at the University of Maryland University College (UMUC, Adelphi, MD), and earn certificates along the way.


Army Recruiting Trend Will Continue
The largest of the services, the Army is also the most heavily deployed, and with its one-year "boots-on-the-ground" deployment policy, it keeps its members away from home for the longest duration.


6,000 Guardsmen to Assist Border Patrol
Southwestern border states will deploy up to 6,000 National Guardsmen to provide support to border patrol missions, President Bush said this evening in a nationally televised speech.


What is a Family Readiness Group?
A Family Readiness Group (formerly know as Family Support Group), is an organization of family members, volunteers, and soldiers belonging to a unit, that together provide information and assistance to others in the group.


Congressional Recoil From Takeover
The silence on Capitol Hill has been deafening. On April 28, 2006 the White House announced the approval by President George Bush regarding the Committee on Foreign Investments in the United States (CFIUS) of its recommendation that Dubai International Capital LLC (DIC), a subsidiary of Dubai Holding and a Dubai government owned conglomerate, to assume the U.S. operations of Doncasters Group Ltd.

Friday April 21

The Truth About Tax Refunds
RS records show most of us have $40 too much taken out of our earnings every week. Why? We either don't know how many allowances to claim on our W-4, we'd rather overpay than write a check to the feds on April 15, or, we see it as an easy way to set aside funds for a vacation or big-screen TV.

Thursday April 20

Military Gets Mental Health Screening
Military members and families coping with the stress of overseas deployments and other potential health-threatening issues can log onto the Internet to get help, a U.S. military psychologist said here today.

Tuesday April 18

New recruits eligible for Thrift Savings Plan
The Army announced April 14 that new recruits who are willing to fill critical specialties may receive matching funds when enrolling in the Thrift Savings Plan.


Science Board to Study Internet's Impact on Military Ops
he Defense Science Board will conduct a summer study on a topic that would have been inconceivable when the Defense Department established the board 50 years ago this year: the military implications of Internet search engines, online journals and "blogs."

Monday April 17

QUIZ: Do You Have CSI Skills?
1. A forensic odontologist analyzes crime scene bullet casings to determine gun makes and models.

False: An odontologist examines teeth of unidentified bodies to help make an identification.



Is Distance Learning Right For You?
If you're like most people, you know someone who has taken an online class, or has considered it. After all, it makes perfect sense, especially when it comes to furthering your personal and professional goals. You can earn your degree online, minus all the time and location hassles that often accompany attendance at a traditional brick-and-mortar school.


Recruiting, Retention Rates Remain High
Recruiting and retention rates released today demonstrate that young people see military service as a viable career option and, once they join, they want to continue serving, Defense Department officials said today.


International Community Must Focus on Iran's Actions, Rice Says
The international community must focus on the actions of the Iranian regime and not just on the rhetoric of its president, Mahmoud Ahmadinejad, Secretary of State Condoleezza Rice said yesterday.


TRICARE: Rising Pharmacy Costs
In the first full year since the Department of Defense (DoD) began implementing the Uniform Formulary process to review and classify prescription drugs, $500 million has been saved through improved formulary and contract management.

Tuesday April 11

Advance As An Army Warrant Officer
The landscape of the Army has changed over the years. Today's Soldier has also evolved. Most join the Army already fully aware of the plethora of opportunities and benefits available to them. Local Army recruiters initially present many of the opportunities and benefits. Once in-service, career counselors may further advise, recommend and present various career advancement opportunities.


Payday Loans vs. Installment Loans
Whether it's for car repairs, travel, or other unexpected bills, when consumers need immediate money their options are often limited. For service members, it can be even more so due to time constraints, lower-than-average pay scales, and a mobile lifestyle caused by deployments, training, and frequent moves.

Monday April 03

First $1,000 Referral Bonus Earned
Sgt. Jeffrey Kauten, of the Army Reserves Detachment 4, 2300 Military Intelligence Group, Charlottesville, Va., was the first Soldier to qualify under the latest recruiting incentive that pays Soldiers a $1,000 lump sum payment for referring applicants who enlist, complete basic training, and graduate advanced individual training.

Tuesday March 21

New Procedures for Tuition Assistance
The purpose of this message is to announce a new Army Human Resources Command (AHRC) Army Continuing Education System (ACES) process for automating tuition assistance (TA) through a new education website. Starting 1 Apr 06, Army TA will only be available through the education website, www.GoArmyEd.com.

Monday March 20

Federal Mandates Belie Port Security
As the story unfolds, it is perhaps important to gain some perspective on the underlying facts and historical context of the United Arab Emirates based Dubai Ports World (DPW) since its takeover of London based Peninsular and Oriental Steam Navigation Co. (P&O), before political allegiances and commercial interests totally obscure the main issues at hand.


Eroding U.S. Industrial Base Comes With Price
The United States of America has historically enjoyed self-sufficiency in times of both war and peace but in order to better assess its present place in the world as concerns its military and economic strength, it is important to reflect on its foundation.


Army Wife Talk Radio
The new internet talk radio show, Army Wife Talk Radio (AWTR), developed specifically for army wives, will be celebrating it's one year anniversary in April of this year. Kicking off the anniversary celebration, authors of "Help! I'm A Military Spouse -- I Want A Life Too!" Holly Scherer and Kathy Hightower will share a four part audio conference with the AWTR listeners.

Wednesday March 15

Special Operations - War on Terrorism
U.S. Special Operations Command is transforming to meet changing needs as it leads the fight in the global war on terrorism. The threat the United States faces today has no borders or boundaries, Army Gen. Bryan D. Brown, SOCOM's commander, told the audience at the 17th Annual National Defense Industrial Association Special Operations/Low-intensity Conflict Symposium and Exhibition.

Monday March 13

Deployment: It's A Family Affair
As seasoned military spouses will attest, the challenges of deployment start well before departure, and can continue even after a loved one's safe return. But with preparation, patience and an open mind, you can keep yourself and your family on solid ground before, during and after a deployment.


Money doesn't grow on trees!
Young children may notice that their parents use a plastic card to make purchases and they go to a machine and money comes out, while older children want to spend, spend, spend.


Army Must Change to Remain Relevant
The U.S. Army is the greatest it's ever been, but to remain effective for the future, it must make changes, a top Army commander said here yesterday.


Wounded warriors get 'second chance'
Among more than 900 Soldiers watching the Washington Capitals beat the St. Louis Blues, 5-4, Thursday night in an overtime shootout, was a wounded warrior who aspires to one day play competitive hockey again.

Friday March 03

Program expanded for Soldiers
The $1,000 bonus for referring recruit applicants announced by the Army in January expanded recently to include more Soldiers as eligible to receive this payment.


Big Changes to Military Pay System
A committee that's spent the past year studying the military compensation system is recommending sweeping changes that, if approved, would bring military compensation more on par with private-sector compensation.

Wednesday March 01

Top Reasons Why People Fail
Let's face it, basic training is tough. For the first time ever recruits find themselves having to wait for permission to eat or even go to the bathroom. Given the several weeks of rigorous mental and physical stress, it's no wonder that many recruits fail basic training before graduation.

Tuesday February 28

Will Your Degree Have Value?
These days, everyone knows someone who's taking a class or even an entire degree program online. But if you're going to spend your precious time and hard-earned money on higher ed', you want to ensure a major return on your investment. Here's how.


DOD Proposes TRICARE Hikes
The Defense Department is proposing that working-age military retirees and their families pay higher premiums to help address health-care costs that have doubled during the past few years, senior DOD officials said here today.

Sunday January 15

New Radio Show Supports Army Wives
A new internet talk radio show, Army Wife Talk Radio (AWTR), developed specifically for army wives, will be debuting April 18, 2005. AWTR will broadcast weekly, featuring up to date information, special reports, as well as stories and interviews specifically tailored to army wives. 'Our Life. Our Family. Our Soldier.' is the motto of the site developed by Tara Crooks of Richmond Hill, Georgia.


Field Problems - Shipping Tokens from Home for Christmas
Tara Crooks and Star Henderson are committed to sharing their stories, knowledge, and providing real answers for today's military families.



Field Problems-Military Spouces - Working From Home
Tara Crooks and Star Henderson are committed to sharing their stories, knowledge, and providing real answers for today's military families. Today's Field Problem: Military Spouces - Working From Home.





About Tara Crooks
Tara Crooks, or "Household 6" in the Crooks' family, is best known for her ability to motivate and empower others. Tara's journey with the military began in 1998 when she and her husband PCS'd to their first duty station, Ft Hood. She is married to her husband, Kevin (US ARMY), and has a beautiful little girl, Wrena. Their family, including two dogs and a cat, is all snuggled in their cozy home in Richmond Hill, GA.

Tara currently writes columns for several military publications, one of which, can be found here on Military.com. Tara also owns and operates two successful websites, www.ArmyWifeTalkRadio.com and www.FieldProblems.com. See The Crooks' & AWTR on CBS Evening News - Watch 01/15-01/19!